Leggings are a girl's best friend. They just don't scream comfort but can also be worn in so many different ways and styled differently. It's also one of the superb ways of showing your superb body while still keeping warm.
Black leggings give you the freedom to design your outfit of the day the way you love to. Because they are black and not patterned, they blend well with almost anything in your closet. They also come in a mixture of styles and fabrics with some being transparent and others opaque.
While buying black leggings, it's important also to consider the length of the leggings. Depending on what you are wearing it with, an ankle length legging may be ideal or a Capri legging.
1. Tops to Wear Black Leggings With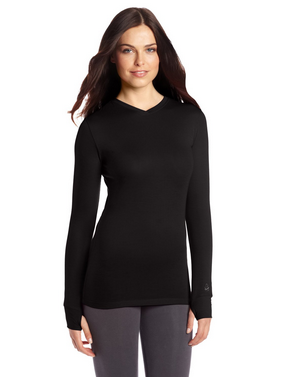 There are a variety of tops that you can choose to wear your black leggings with whatever the season. However, when it comes to what top to wear, it's important to ensure it's something that covers your crotch area.
Subsequently, the color of the top doesn't necessarily need to be black. You can choose a different color to spice things up and make you pop some more. Tunic tops are ideally one of the top picks for most ladies who enjoy wearing leggings. Tunic tops come in different styles, shapes, and length with some designs including side slits and unbalanced hem.
During summer, you can pair your black leggings with floral tops, animal prints, color block or tie and dye. You can also wear bright colored tops while during winter you can opt for darker colors like green, blue or navy.
Apart from tunics, you can also opt for off-shoulder tops, dress shirts, fashion blouses, stylish t-shirts, one shoulder tops among others. During winter you can opt for cardigans and long sweaters or use them as part of your layering process.
2. Shoes to Wear Black leggings With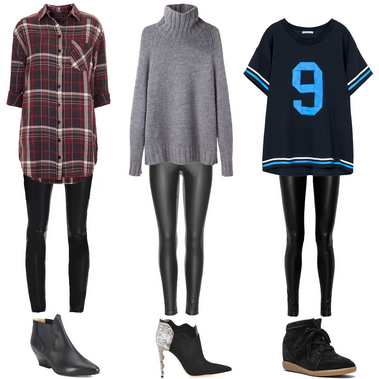 The thing about black leggings is that they are comfortable and can be worn with almost any type of shoe. Low cut flats look pretty good with black leggings. While neutral colors make it very easy to pair, you have the option of experimenting with different shoe colors.
Besides flats, you can also pair them up with ballet flats or pumps. You, however, need to be careful with pumps. Stilettos and heeled pumps or wedges look really dope with ankle-length black leggings. And of course, you always have your mirror and can check what really looks good on you.
Boots are another type of shoe that you can use to pair them up with. And while most type of boots would look really good with your black leggings; tall boots make your black leggings more appealing especially if you have to wear them in the winter season. The colors of your boots also shouldn't blend in with your top or wear the same color of a top as is your boots.
If you must do ankle length boots, ensure that they cover the skin below where the black legging end so that they don't look a bit funny. Always the best choice is tall flat boots.
You can also rock sneakers and sandals with your black leggings but be picky about the latter.
3. Black Leggings with Dresses
Pairing black leggings with a dress can be a bit of a struggle as not all type of dresses need one. Essentially, black leggings go pretty well with short or midi length dresses. Maxidresses don't look any good with leggings unless you are wearing them for warmth during the cold season.
You can, however, rock your black leggings with long dresses that have long slits on the side. Additionally, during summer you can wear your black leggings under long flowy dresses especially if you are going to the beach or just for a walk around the block on a windy day.
When wearing leggings with dresses, you need to ensure that they are right as loose leggings give a sense of slackness on your end and a bit off too. Short dresses, on the other hand, look really good with black leggings and can be paired with tall high boots, wedges or flat shoes.
Pairing your legging with a dress is fun and exciting as it can pass for a casual as well as official look depending on the accessories and setup you choose.
4. Black Leggings With Skirts
Similar to dresses, black leggings go well with skirts of they are well paired up and accessorized. You have the freedom and flexibility of wearing a legging, a skirt and a short top.
When opting for a skirt paired up with black leggings, the color definitely counts. Skater skirts and stretch mini-skirts are ideally the best options when it comes to pairing the two. Skirts that fit above the knee or shorter really work well with black leggings.
Because your leggings are already black, pairing them up with a black skirt may make you a little too 'gloomy.' As such, playing with different colors or checkered skirts with plain colored tops can really look good. You can pair up the look with an off-shoulder top, camisole, backless or tank top. Long tops may not be ideal when your pair a short skirt with your leggings.
If you must wear a black skirt, try wearing a colored top as mentioned and finish your look with a pair of shoe that has a similar color to your shoes or slightly close.
Final Thoughts
Everyone's taste is definitely different, and everyone has a different way of pulling off a black leggings look. Because they are comfortable, almost every lady has one in their closet whether it's for layering or for pairing it up with a nice off-shoulder top for a night out with the girls.
However, you choose to pair it up, just ensure that the black leggings are a good fit and suitable for your ideal outfit of the day. Don't try copy someone else's style and leave the house if it doesn't make you comfortable. Also, your accessories matter. The correct accessories can make all the difference.