Leggings with a lining are perfect for the cold weather and they help your body temperature at the same time. But as we recommend with any kind of leggings you should keep one thing in mind: no matter how much we love them, they're not pants. So wear them with cute, oversized tops or sweaters this winter, they will go perfectly with your boots or any winter gear. Let's take a look at our top picks:
SPANX Women's Moto Leggings




Spanx is the go to brand for slim wear. True to the Spanx trademark, these leggings are ultra-slimming and are made to flatter your figure. The leggings have shaping technology built into both the tricot-mesh waistband, and in the legs with faux leather detailing. They are made with high quality ponte fabric, which creates smooth lines, and provides just the right amount of flexibility and comfort.
The moto-inspired leather detailing on sides make these leggings a versatile wardrobe statement piece. They can be dressed up with stilettos for a chic modern look, or dressed down with sneakers for a casual day out. Leather pants are a hot trend right now. These leggings are a perfect way to achieve this fashion forward look without getting completely leather pants.
BCBGMAXAZRIA Women's Kalin Legging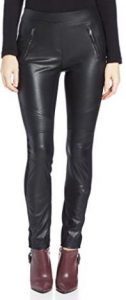 Winter calls for something more than regular fabrics. Leather, for example. And the good thing about leather is that it will make us look powerful by the minute. But if your friends with nature, you can also use them, because the leather-looking comes from a base of 100% polyurethane in the front and 100% polyester in the back. These two materials are mixed with a few panels that contrast polyester, rayon, nylon and spandex. Looking at these closely someone might think they're not exactly comfortable, but an elastic closure is a good guarantee for that. And the model is the opposite of boring black leggings: stitching in the knees and tights, front zipper pockets, all very put together for a very badass look. Way to kick off the bad weather huh?
BCBGMAXAZRIA Women's Sasha Ponte Legging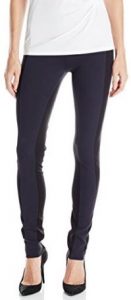 BCBG is doing a great job by keeping us away from boring clothes. And they do it with contrasting, very formal-looking leggings that we can actually wear to a bunch of different occasions, work included. They're made out of 76% rayon, 21% nylon and 3% percent spandex, so they basically look a little bit more like pants and a little less like leggings.
These two-tone leggings have a very nice fit, not as tight as we could expect, and a mid-rise waist, that comes actually in a good time, when we'd like everything to be embracing our waists and not the opposite. But they do keep one good thing about leggings: you don't have to deal with zippers or buttons, just enjoy the magic of pull on. But remember, you have to help leggings a little to make them look fancy and elegant.
Try things around the hip area and balance your figure with loose clothes on the top.
MICHAEL Michael Kors Womens Faux-Leather-Front Ponte Leggings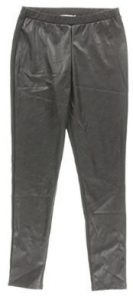 More faux leather options and guess what? We have a sale here! Is not every day that you have the opportunity to get your hands in a Michael Kors (even if it's the affordable line) at a very reasonable price, so this is the definition of a great deal.
The beauty of this leggings is that they're mostly made out of viscose, which allows your skin to breathe even though you're dealing with a special fabric. The rest of the composition is a mix of polyester and elastane, which will assure you the texture you need in leggings.
And for all the edgy souls out there, the contrast of the shiny in the front and the matte in the back can give the exact dose that you need. And all that with quality, not the worry about looking too shiny, because you will look expensive!
Eileen Fisher Sz Blk Ponte Leather Trimmed Front Leggings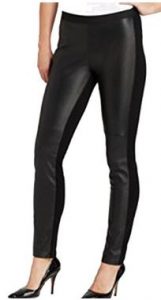 Remember when we only had one option for leather-looking leggings and they were not exactly the best material? They ended up looking shiny and cheap and did any of us a favor. Luckily, fashion has evolved and brand had come to understand that we need edgy leggings in our lives. These trimmed front leggings are exactly that, the black option for those days when you're feeling a little bit edgy but still classic. The fabrics on this mix are leather, viscose, nylon and spandex, always necessary for a good fit. When it comes to buying these, you should be aware of their size hack: PS normally stands for 'Petite Size', and it's made to fit sizes 6-8.
Lauren Ralph Lauren Women's Stretch Denim Legging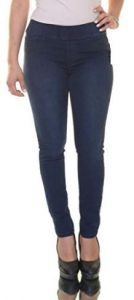 Yes, denim leggings are a thing. And a very popular one, if you ask people in Latin America (believe me, they absolutely love them). And the key when you're buying one of these is making sure that they're very good quality because otherwise, it can totally reflect on your looks.
This model by the affordable Ralph Lauren line is pretty much everything you want on your jeans (skinny fit, pockets and the front, the back and a little coin pocket), combined with the best things leggings can offer, such as an elastic waistband, a sewn fly and of course, the comfort.
They look exactly like jeans and they're made out of cotton and polyester, so we don't have any fabric trying to fool us. One very good feature? Free return in some sizes and colors!
Spanx The Slim-X Rich Indigo Skinny Leg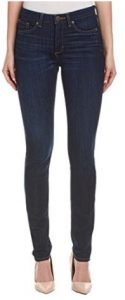 We did tell you the beauty of Spanx in every piece of clothes they make, so you seriously believed we were only one to show you one option? No way, because they also have skinny jeans! These beauties have a slimming system featuring patent-pending technology, which acts like a hidden shaper while you look fabulous in your jeans. But that's not the only 'tech' thing about them, though. These leggings have a triple thread fabric technology, for extra stretch, recovery and body-contouring fit. That's right, these are made to hug your curves. And on top of everything, thy have the looks of your favorite skinny jeans: perfect pocket placement and a perky look in the back. Forget everything else, these are the jeans you need to have!
Theory women's Trinwell Stretch Cotton Velvet Leggings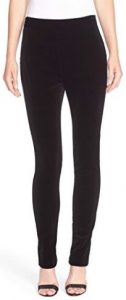 Velvel is one of the most popular fabric in fashion these days. As we're experiencing a 90's comeback, this texture is part of the revolution. And of course, we had to have velvety leggings on our list.
This specific model features a high-rise cute (very 90's) and the very soft and warm feeling velvet can offer. It's made out of 98% cotton and 2% elastane, which gives it a bit of flexibility.
Zip fly and hook-and-bar closures are other features of these pants that are so in trend right now, that you can almost pair them with anything. Just remember, no crop tops, you don't want to look like you came out of the time machine.
Theory Women's Adbelle L2 Bristol L Pant

You probably were a Little shocked when you saw the price tag on these leggings, but then we have to remind you one thing: quality comes at a certain price, and in this particular case, quality comes alongside leather. These beauties are 100% made out of leather, which guarantees you will have pants forever, literally.
They're pull on pants that you can wear for the rest of your life, and of course, they're the perfect winter leggings, combining both comfort and coziness in one single item. When choosing your size you also have different options of leather, which is a complete plus, and the only thing you have to worry about is the way you take care of them after you buy them: you can only dry-clean this.
WoolX Women's Wool Leggings – Midweight Merino Base Layer Bottoms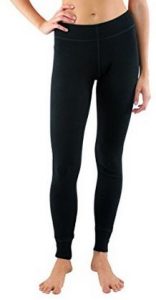 Is there something better than wool for keeping us safe and warm during de low temperatures? Well, I'll wait for you to give me a recommendation and in the meantime, I'll keep wearing these wool leggings. With a wide-shaped waistband and flat lock seams, these leggings are good for almost everything. Because of the texture of wool, you don't have to worry about these been see-through and especially, look cheap in any way. They feature odor control and they're super soft, because they're made out of Merino Wool, an Australian sheep that is very specific and recognized for is quality around the world. The funny side is that they come in different colors and you can even choose a pattern as cute as colorful stripes. And on top of everything, they offer a refund if you're not completely satisfied with your purchase.
Nikibiki 3-tone Weave Pattern Long Leggings Thick Jersey NB6167
Do you want a way of being classic with a little twist? Look no further, jersey leggings are just the thing you were looking for. Nikibiki has a lot of experience making leggings, and this model is no exception to that rule.
You don't have to worry about them not being stretchy enough because they're made out of 92% thick jersey nylon and 8% spandex, which give this material the quality it needs and it also will make you feel super cozy when the cold hits.
Seamless wear, this model is a must when you want to wear them like outerwear but you still want to feel you're protected against the temperature. It also features a 3-tone weave pattern that will also look really cool. You have to keep in mind that they only come in one size.
Womens Genuine Heat Holders Thermal Brushed Tights Black

Thermal clothes are the best way to feel good during winter because they really guarantee you're cold and cozy. However, it's really hard to find thermal clothes that are not only useful and practical but somehow pretty. You get me, don't you?
These leggings are more like tights, but they're thick enough to wear as leggings, and then you have two pieces in one. Black and classic, a nice addition to your basics closet and you don't have to think about getting socks because they're already there.
They're made out of 99% polyester and 1% elastane, which makes them cozy than elastic, but that is not a big deal when all you want is for them to warm you up. They're equipped with a brushed inside with a warmth tog rating of 0.52.
Franterd®Women Winter Thick Warm Fleece Lined Thermal Stretchy Leggings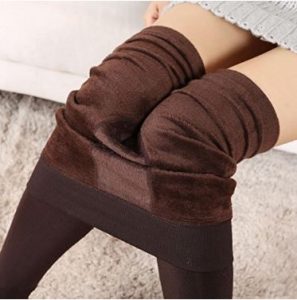 In case you want a more affordable (I'm talking really affordable) type of leggings that also serve the purpose of being thicker and comfortable, you may want to try these babies, which come in a very wide variety of colors.
Franterd®Women present you these leggings, with spandex and fleece lined. They're a costumer's favorite, and you will notice the difference with other pieces, especially on their high super elastic waist, which make them even more curvy hugging, something that you would love for sure.
They're size free, so you better take a look at the measurements before you add them to your car: Waist: 19.5-35.1Inch. Length: 36.2Inch.
Different colors available…
Premium Heavy Weight Fleece Lined Legging (Beige+Purple)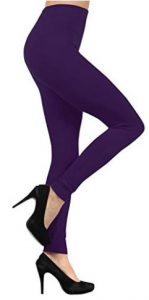 One of the best things about leggings is that they often don't come alone. A very affordable leggings pack deal is great, especially when you're on a budget but still want to experiment with different colors than black.
This pack comes in two colors: beige and purple. They stretch comfortably to 33'' waist, 15.5'' rise, 43'' hip, 43'' inseam and 52.5'' length. Made out of polyester and spandex, they promise both being thick and really stretchy, thanks to their 175 grams of lines heavyweight fleece.
Can you imagine the beige ones with chocolate-tone sweater and boots? Because I totally can and I can't wait to wear that look.
Women Leather Leggings Fleece Lined Stretchy Warm Tight Pants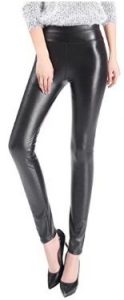 Leather is an option that, out of comfort and heating reasons, we can only wear half of the year. And yes, it is a great material to wear over winter due to its temperature.
However, leather is not always the most comfortable fabric to wear, and that's why these trendy leggings also offer a warm fleece lined, so you can keep things both cozy and relaxed. For all the animal lovers out there, these are made out of waterproof faux leather, and it's a great option for going out on a cold night.
Unlike a lot of leggings out there, these ones come in different sizes, from S to M, fitting women from US0 to US10. It is recommended to check the size chart before placing the order.
Honeystore Women's Pattern Cotton Knit Tights Spring / Winter Leggings Pantyhose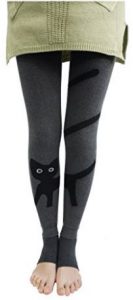 What's winter without ugly sweaters and fun tights? Nothing, really. That's why I had to close this list with a pair of fun, super cute tights that can perfectly be worn as leggings.
Yes, that's a kitten printed in that pair of tights that go all the way to your feet, but just right in the middle, wich makes perfect sense in case you want to add extra protection against the cold. And let's face it, a lot of us do it.
These imported leggings are 100% cotton and come with the 'one size' premise. Average measures are 5'1''-5'7'' height, US size 2-6. The best thing about these is the opaque look, but you have to be careful when washing them, only hand wash is recommended.
Different colors available…