Winter is coming… and it's not a Game of Thrones joke anymore. We've come to that time of the year where we need to put on a lot more clothes and have to walk around with sweaters, jackets, tights, boots, and everything else you can imagine. In some cities, snow will come and then things will get a little trickier, but most people love it because it's an opportunity to feel cozy in our clothes.
However, looking cozy doesn't mean that we have to leave the 'chic' element behind. Winter comes with a lot of opportunities for dressing and looking incredibly cool in our everyday style, only a little bit more protected to weather. And that task applies, of course, to shoes. Why? Because shoes are one of the most important parts of women's wardrobe, and they became extra important on this season, because the feet need to be protected.
Of course, the best shoe option for winter are boots. And since we want you to feel cozy and look awesome, check out some stylish option for winter boots.
BEARPAW Women's Emma Tall Shearling Boots
First things first, we need an option that is comfortable, cozy and practical. And what better than a pair of black simple boots?
These round closed-toe beauties feature a sheepskin lining, which gives your feet extra warm in low temperatures.
They also present a cushioning inside for more comfort. And if things get tricky due to snow or water, you can also trust their rubber sole, which comes with traction that will make your steps a little bit more secure.
This pair is definitely an investment for years to come.
Lamo Sable Women Round Toe Suede Winter Boot

Girls who would like a shorter and a little bit more affordable option can think about these boots.
Made out of suede both in the outside and sole, they're a costumer's favorite for their cozy faux fur collar and lining, which makes them super cute and trendy.
The water-resistant upper material gives them extra protection from the weather and they also feature a manmade sole, which translate resistant.
With a different range of pricing depending on the color, most say they fell in love with the adjustable buckle detail, which makes the boots adapt to your feet.
Different colors available
Harley-Davidson Women's Lise Boot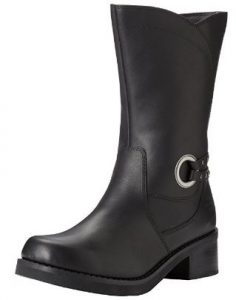 Yes, we just said that suede is one of the most popular material to use during winter. However, other fabric that is absolutely useful for bad conditions is leather. Not so comfortable, but really resistant, that's why it is the favorite among the toughest gals out there.
This Harley-Davidson model is made 100% of leather and it definitely will make you look like you own town, no matter where you are.
It has a rubber sole, which means you can use them in the snow or the rain without causing any trouble, and it also features a little heel, perfect for someone who appreciates looking taller but not losing their feet on the way.
It can look perfect with everything: jeans, leggings, and even a dress who needs a bit or rocker attitude.
Cougar Women's Jessy Winter Boot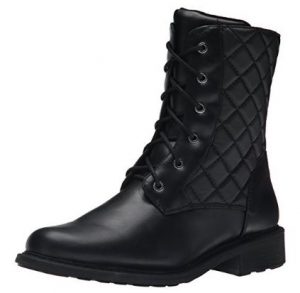 But there are also those ones who can't precisely afford leather (which, let's face it, sometimes is an investment) and still want to look tough and chic.
Thank God for faux leather, which also pleases the eco girls out there. Cougar made an interesting bet combining one of the most popular models of boots with a synthetic material that really fools the eye.
One of the best features of these combat boots is their memory-molded removable insoles, which adapt to your feet and after a few times will feel like you've been wearing those your whole life like you were born with them.
The lace-up shaft makes it very adaptable too, and the best thing about this option is that not only comes in black: if you want to look even cooler, you can order them in patent black. Who's the boss now?
Different colors available
Delicious Women's Eminent Inner Zip Almond Toe Stacked Chunky Heel Bootie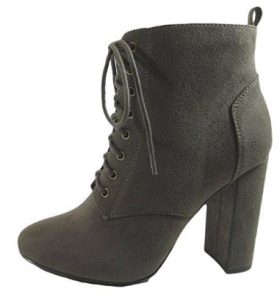 And starting here, we take things to another level. Heel level, that is. As we already mention, there are girls who are not willing to give up their extra inches just because it's winter and cold outside.
For them, of course, there's also a solution, something like a really chunky ankle boot with a lot of style.
These booties are synthetic and come in 4 different colors, and the price is so affordable that you can think about getting all of them. And although they have a lace-up detail, also come with an inner zipper, for an easy on and off.
The best thing is you can not only wear them during the winter, because their cut makes them easier to put on during fall or spring, for the ones that love them too much.
Different colors available
Nine Seven Genuine Leather Women's Pointed Toe Stiletto Heel Zip Handmade Knee High Boot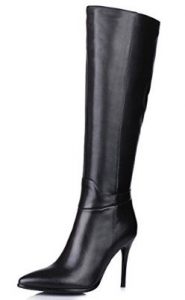 And now, the ultimate winter heels for the height lovers out there. This genuine cow leather model is not only a classic, but it fits perfectly into the tall boots trend that we're season since the cold season started.
One pair like this will make you confident, sexy and chic, all at the same time.
Although the price is not the most affordable, you can consider it a serious investment, guaranteed to be in your closet for a long time to come.
The heel is approximately 3.74 and inches and the rubber sole will prevent you from any accident that can come out of walking with killer heels. The stiletto heel is what makes it so special, an item that you can pair with jeans, skirts, dresses and everything you want to give a chic twist to.