Some of the guys dislike wearing scarves, but we can't seem to find the right reason why not wearing them during the cold winter. They are very stylish, and they always help you keep your neck and the rest of the body warm. For those who think that scarves are only for women, let us remind you that the scarves are in mens fashion more than 200 years (dating way back to when almost every army in past and present used them for their soldiers).
1. Veronz Super Soft Luxurious Classic Cashmere Feel Winter Scarf With Gift Box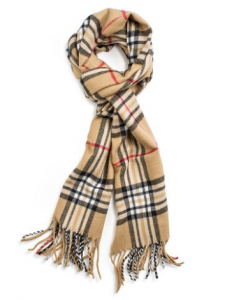 As you may know, men doesn't like to give their reviews about products that they have bought, but this one is an exception.
One of the reviews wrote: "So I"m finally writing a review because I seriously love this scarf." Many other reviews of this scarf just love its cashmere feel, and the fact that it doesn't irritates their necks.
There is also a fact that this scarf is very warm, but not bulky and bunched up. You can choose from many designs to create unique look. They all have fringes, and cool patterns that you can combine with your winter garments and look classy.
One more thing, this scarf can begift-wrapped and used as a great Christmas present for your friends and family.
2. Sakkas Ellington Unisex Knit Scarf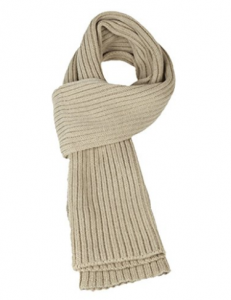 If you prefer polished look and solid colors, this scarf is ideal. It looks very rich because of knit design, and it serves to its purpose. Perfect length and thickness are the main characteristic of this scarf. It has no fringes so it looks more serious and more masculine.
However, many people who have this scarf have a big problem with it. It looks good on their wifes and girlfriends, and sometimes they borrow it because it looks so cool.
The price of this scarf is affordable so you can purchase two if you already know that your better half also needs a scarf and prevent stealing.
3. Tommy Hilfiger Men's Color Block Stripe Scarf

Some scarves are more than just frostbite protection. This Tommy Hilfiger Color Stripe comes in two designs, and both of them are very stylish. The burgundy one is more expensive, so we think the green one is a better choise for your shopping if you like to take care of your budget.
In both options colors blends very well, and all the reviewers of this scarf emphasize how warm this one is.
Great thing about this scarf is that it has tree colours that are compatible to almost every classical man coat and jacket out there.
4. Dahlia Men's 100% Fine Acrylic Colorful Striped Knit Long Scarf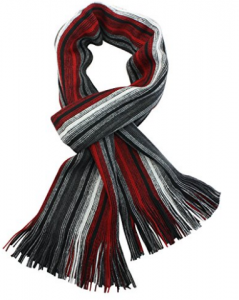 Oh this one is fine for shure! It is made from different kind of acrylic material which has thinner and finer fibers then other acrylic scarfs. Guys that have this scarf say that it has a luxury softness.
It is also a long scarf but not that long to bother you while walking. You can wrap it around your neck and tuck it into your jacket and you are good to go.
Although it is so soft, this scarf is an excellent choise for manly man, especially tall ones. It goes well with casual style, but you can also wear it with dress coat and slacks and look sharp.
5.Polo Ralph Lauren Wool Blend Pony Scarf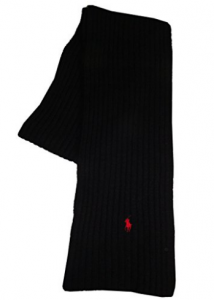 This authentic Ralph Lauren wool scarf looks so expensive and classy because of embroidered pony logo. It is made mostly out of lambs wool wich means that softness and warmth are guaranteed.
If you are looking for winter scarves you know that the best ones are those with soft surface, and wool and cashmere are the softest materials.
Pay attention when buying because the prices are different depending on the colors. For example northwest-green and hunter-navy scarves are cheaper than the rest, but they also add a strong element of style, especially when they are matched up with bland outfits.
6. Love Lakeside-Men's Cashmere Feel Winter Plaid Scarf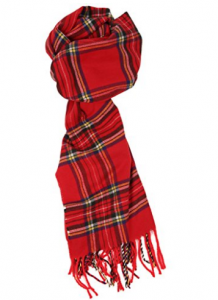 Men's winter coats are usually very plain in their colors, so you can spice up your style with choosing the right scarf!
Here you have 30 different designs to choose from, and the price is awesome, so you can buy more, and change your style by changing just a scarf. Interesting design of this accessory will give more color to your winter clothes.
As you can see from its dimensions, it is not too long, but it is just enough to go around the neck and keep you warm. Classic style, good price and ability to combine this scarf with black, navy and red outfits is what makes it the best choice for smart buyers.