Winter is here, and I hope that you don't have to spend a lot of time outside cleaning up the driveway, or something even worse (if there is anything worse).
But if you have to, fortunately, there are many tricks how to avoid flu season, and stay warm. The most important trick of them all is layering, and choosing the right materials when you are in shopping. There are also many different reasons why and how you are spending your time outside during the winter and that can be one of the factors when making a decision which garment to buy.
Guys who don't want to quit their sports activities during harsh winter should look for pants that are lightweight. Those who are spending a lot of time outside without physical exercise need to have thick layers, waterproof layers, windproof layers, and many many more layers. Or just the perfect pants for winter time.
So brace yourselves, read this article and fight with winter months like a professional.
Clothin Men's Snow Pants / Fleece Lined Ski Pants / Waterproof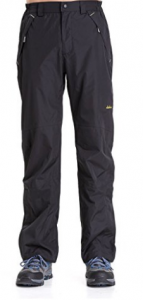 This stylish pants with straight leg are great for every winter sports enthusiast, and some of the wives that have purchased this for their husbands are saying that they are using this pants while doing the snow removal.
Basically, great pants for every guy during the winter time. These pants are fleece lined, and it is what keeps warmth inside. Polyester on the outside layer is waterproof.
Pockets are great for keeping your stuff inside because they are zippered. There are two pockets in front, and two behind and all of them are zippered. Also, these pants have internal adjustable gaiters to keep the snow out of your boots and enhance windproofing abilities.
Multiple colors
Wrangler Authentics Men's Fleece Lined Carpenter Pant
Men just love to keep it simple when it comes to clothes. And what is more simple and casual than jeans? Nothing my friends. But is the jeans the right choice for cold winter days?
Well, usually not, but this Wrangler authentics is fleece lined and it leaves a lot of space for wearing one more layer underneath them. They can keep you warm and you will feel great in them because you can wear them with your favorite sweaters or button up shirt. As I said, it has a loose fit and you can wear them in a casual working environment or in outdoor work.
If you want to make them more stylish, you can wear them with a belt because they have belt loops. It also features a rule pocket, cell phone pocket, and hammer loop.
Multiple colors
Dickies Men's Relaxed Straight Fit Flannel-lined Carpenter Jean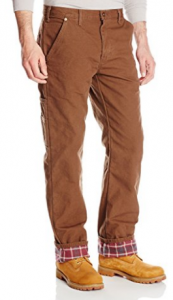 These pants are ideal for cutting firewood, and taking your dog for a walk during the coldest days of the year. Reviewers say that they are quite warm and very durable.
As you can see on the picture they are flannel lined and they have relaxed shape. There are two similar models to choose from, and I prefer this look because it makes you look like a lumberjack.
Ladies will agree, lumberjacks are always sexy. So with these pants, you don't only get the right amount of warmth but also the certain amount of sex appeal.
Trust me.
Multiple colors
Wrangler Authentics Men's Fleece-Lined Cargo Pant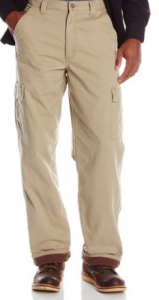 The most important thing about these pants is that they have scored 4,6 stars out of 5 among 480 reviews. That is why I am sure that you will love these pants for their warmth, ruggedness, and the roominess of the cut.
They have enough space underneath for wearing one more layer, but the reviewers say that they are very comfortable and warm, so maybe you won't need that extra layer.
Fleece lining can hold the warmth, and pockets on the side are cool if you want to do some work outside, so you can keep the smaller tools inside of them. They are made in khaki color, but there is also a military print, wich is very popular these days and makes you look more masculine.
Multiple colors
Smith's Workwear Men's Polar Fleece Lined Canvas Cargo Pant

These pants are made out of cotton, and as their name says, are perfect for work in polar conditions. The layer made of polar fleece is keeping the warmth inside, and making it extra soft. Heavyweight washed cotton canvas is here for more comfort, and that is what is the most important thing when choosing the right pants for winter activities.
Double tough stitching is preventing damage and big double velcro closure pockets are here for the security of your things. They look relaxed, and they are not too heavy so you can enjoy winter days with your kids and pets outside and make great memories.
There is only one color for this size of pants, but if you switch the sizes then you can choose other colors. I think that this dark greenish color is just right and easy to combine with all sorts of winter boots.
INBIKE Men's Winter Fleece Thermal Pants for Outdoor Multi Sports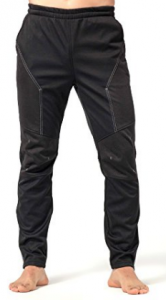 These pants are for active man. For men who enjoy winter, and winter sports more than anything. Specially made materials are making this pants so warm, that you can't wear these inside of your house. It is just for outdoor activities such as walks, running, skiing, hiking or just spending time in the backyard because they are too warm to wear them inside.
They are quickly dry, and stretchy, made of polyester wich is breathable. The visibility and daylight are shorter during the winter and the designers of this pants thought about that. That is why these pants have elements that reflect the light to keep you safe.
Reviewers of this pants emphasize that the measurements are great, and everybody loves that the waist is high and has an elastic band. So if you are an athlete who thinks that winter is no excuse for outdoor exercises, this pants will keep you warm and protect you day and night.