Are you ready for it to be a little bit warmer already? So are we! We are ready to spend days walking in the park or dancing through refreshing spring showers. However even though in the spring it is slightly warmer, we do need a nice spring jacket to keep off the lingering cool temperatures of winter. So we have concocted this trendy list! We know that transitioning one's wardrobe is often a daunting task and that is why we are here to help you find the best spring jacket's for this upcoming season.
The colors of Spring 2017 are focused around different hues of greens and blues, with a touch of vibrant pink, yellow, and orange, and as always your favorite color in pastel form. These style's range from girly edgy to grungy hipster. You can pair these jackets with a variety of looks, so the sky is the limit! Go ahead and take look.
Blank NYC Floral Embroidered Motorcycle Jacket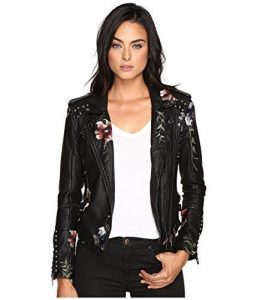 This Blank NYC embroidered motorcycle jacket will have you feeling like an 'It Girl' once spring finally arrives. It is the essence of edgy while still being very feminine with the embroidered floral designs and silver studs.
This coat is only currently available in black, in an extra small, and it is faux leather. The colors on the jacket consist of rose, pink, green, and white. You can pair this item with some black jeans and pink top or play up the girly vibe and pair it with a satin slip dress.
Customers say it does run a little small, so size up. Nonetheless the reviews for this item have been five stars! Get it now before it sells out!
Momo&Ayat Fashions Green Duster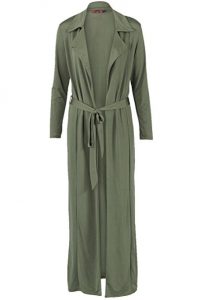 This olive green Momo&Ayat Fashions duster is great for spring and will flow behind you as you head to work. This coat is slinky and lightweight, perfect for the transitioning weather. It comes with a removable belt and in 4 different colors. It currently is sold in black, green khaki, plum, and silver. This item ranges in sizes from US 6 to US 12.
You can pair it with a cropped top and high waisted jeans with cute peep-toe booties for a casual cool look. Customer's have given this item 5 star reviews, saying how it was perfect and exactly what they were looking. They stated that the fabric was great quality with a little stretch and the fit was fantastic!
If you don't own a duster jacket, you are definitely missing out. It will definitely become one of your wardrobe staple pieces!
Multiple Colors Available.
Marolaya Oversized Distressed Denim Jacket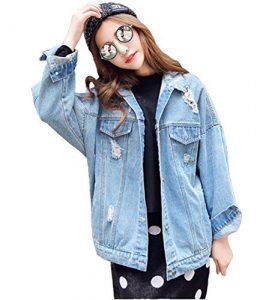 Adding a twist to a spring wardrobe basic, this Marolaya oversized denim jacket adds a little edge. Instead of the usual fitted denim jacket over a floral dress or pastel colored pants, this jacket adds a little grunge to your wardrobe.
This coat is oversized and distressed, with some distressed patches on the front and the back. This coat can be paired with colored pants and trendy top to fully embody that grungy hipster vibe. It comes in a range of sizes from small to extra large, this is Asian sizing so definitely size up. It also comes in two shades of denim, Dark denim and Light denim.
Customers give this item rave reviews due to the jackets great fit, great price, and fast shipping! With this light denim fabric, it is perfect for spring!
Multiple Colors Available.
Viport Satin Embroidered Bomber Jacket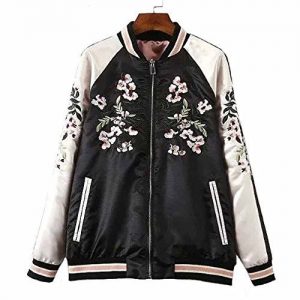 It's no secret that the love for satin and bomber jackets is going to follow us into the Spring 2017 season. This trend is honestly super cool and this jacket lives up to all the hype.
This reversible black and light pink Viport jacket comes in sizes Small, Medium, and Large. It only comes in one color, but it is reversible so technically you can count it as two colors. On the reverse side it is a rose pink on the body with pale pink sleeves and black trim on the collar, waist, and arms. The back of this jacket also has some exquisite embroidery of a floral design.
Customer's are so pleased that they decided to purchase this item, because it was great quality for the price! Try this trend and you wont be disappointed!
Easy Leisure Army Green Military Jacket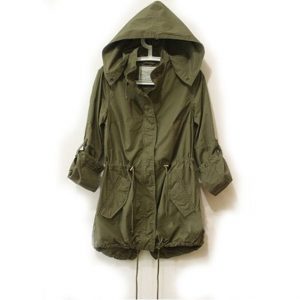 Military jackets have been a trend for quite a while now and it is going to stay with us this spring.
This Easy Leisure army green military jacket is perfect for a more casual look. This jacket is a great price! It comes in sizes small to extra large, in asian sizing so order a size larger. It comes in two different colors, green and deep green. There is a waistband to tighten the jacket, buttons to change the sleeves to full length, and the hood is detachable!
Customers are loving this product because of its quality, soft fabric, and price! This jacket is great for wearing over layers. Perfect for those cooler spring evenings.
Multiple Colors Available.