Dreaming of taking nice relaxing run in 2017? For some, the changing season's will have you wondering what to choose to wear from your athletic wardrobe. Today we have created this list of the best women's running jackets for 2017.
These jackets range from super stylish pieces to colorful fun styles that will make you feel like you can run just a little bit faster and a little bit longer. It doesn't matter if you are an avid marathoner or just starting the Couch to 5k program, these jackets will have you moving those legs and staying warm while staying active.
Even if you don't run at all, these stylish running jackets will keep you warm while running errands on chilly spring days and keep you looking fashion forward when you take that spin class at the gym. Check out these hot picks below to get ready for you next active endeavor!
Kirkland Signature Full Zip Active Jacket
This Kirkland full zip active jacket is the perfect running jacket for 2017. It is equipped with a full length zipper closure. It has moisture absorbent fabric to provide ultimate comfort while staying active. There are even cute thumbholes to keep those hands nice and snug.
This jacket is currently available in sizes extra small to medium. It is available in 3 different colors; coral, sea green, and blueberry. Customers give this jacket 5 stars due to its great fit! They all deem it to be an excellent choice and perfect for jogging.
You can pair this running jacket with a variety of sports attire, including patterned leggings or running shorts. You will love this jacket and end up buying it in every color!
Multiple Colors Available.
SM by Steve Madden Quilted Hoodie Running Jacket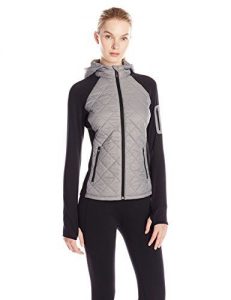 Steve Madden is usually known for its great quality shoes, handbags, and clothing. Now this brand has dipped into the activewear market, creating some customer hit pieces. This jacket is on the pricer side, but well worth the splurge with its cool mixture of fashion and functionality.
This SM by Steve Madden hoodie jacket is perfect for when the weather is a little colder. It has a diamond quilted body with raglan sleeves, creating a perfect silhouette.
It has a full zip closure that locks in warmth while the thumbholes keep sleeves in place and hands toasty. The jacket also has an arm pocket which is perfect for cellular devices and zipper pockets on the sides. It is currently only available in sizes large and extra large. It also only comes in one color combination of black/jetty grey.
Customers love this unique style and flattering fit. You can pair this running jacket with a classic pair of black leggings and black and white sneakers for a very monochromatic look. Get it now before your size is sold out!
Asics Lite Show 1/2 Zip Jacket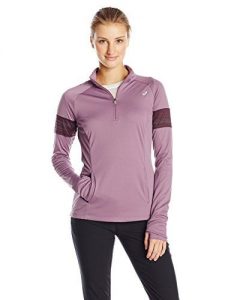 This Asics 1/2 zip jacket is great for comfort and perfect for that mid-day jog through the park. This jacket is the epitome of style and has a great amount of special features. It is a great price for the quality and protection while running.
It has moisture management fabric capabilities. It also protects you from those rays of sunshine with 50+ UPF. It has mesh fabric with an air channel for ultimate comfort and breathability. There is also a reflective logo and trim for visibility during those spur of the moment nightly runs. Instead of the usual zipper pocket, this jacket is completed with a nice kangaroo pocket. It runs in sizes from extra small to extra large. It also comes in 3 colors; black life show print, grapeade, and pistachio.
Customers love this jacket for its great quality and fun style! They also say it runs a little small so they advise to order one size larger. You can pair this cute jacket with some printed running shorts or capris, perfect for those warmer day runs. You won't be disappointed with this item!
Multiple Colors Available.
Head 'On the Move' Moto Jacket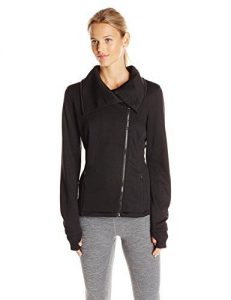 Head is more well known for their top quality tennis rackets and tennis gear. But this jacket is perfect for that fashionista who wants to stay setting trends even while running that mile loop.
This Head Moto jacket is quite trendy with an asymmetrical biker jacket look. It also has cuffed sleeves and thumbholes. The zipper is also reflective when shined on by lights at night. This jacket comes in sizes extra small to large and is available in 2 colors, black and charcoal heather.
Customers love this jacket! They adore its great price, lightweight material, and stylish look. You can pair this trendsetting piece with some colored leggings or even double it as a regular jacket and wear with jeans.
Multiple Colors Available.
Nike All Time Full Zip Training Hoodie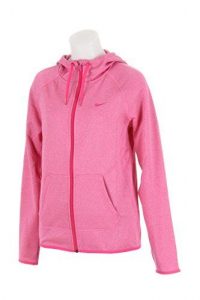 Nike has been known for its quality performance wear for decades. Being a leading brand in the athletic industry for its innovation of functionality and quality.
This Nike full zip training hoodie is perfect for some of those colder days. It contains thermal fit fabric to keep you warm while you exercise. The arms also have thumbholes to keep those hands nice and warm. The fabric is also quite comfortable and it has a kangaroo pocket to store small items. It comes with a hood with a drawstring so you can keep on running even when those clouds look a little stormy and rain begins to fall. This jacket comes in sizes extra small to extra large. It comes in 5 different colors; fire berry/vibrant pink, black, light tidal blue, court purple, and purple dust/green.
Customers love this jacket for its great fit and great quality! You can pair this jacket with a number of athletic attire. Black clothing is always a nice choice and the jacket will be a great pop of color. Get ready for a chilly run with this great item!
Multiple Colors Available.
Icyzone 1/2 Zip Running Shirt Jacket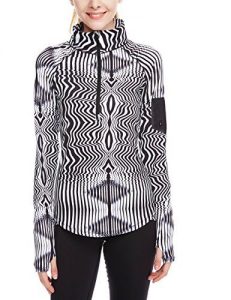 This Icyzone 1/2 zip running shirt jacket is perfect for those warm days when their is only a faint chill in the air. This jacket is perfect for the person who isn't afraid to add some crazy prints and a little color their running wardrobe.
This jacket comes in sizes small to extra large. It comes in 5 colors/geometric patterns which are called fantastic, lighting, monochrome, plume, and zebra. This jacket is made with a very comfortable material that is quick drying and with a great style and fit. It has thumbholes and a mesh back for cooling. There is a zipper pocket on the back and the arm!
Customers love this jacket because of the cute thumbholes, the amount of pockets, and the comfort of the item! You can pair any of these sweet geometric prints with a pair of solid leggings or running shorts for a balanced look. This jacket will be all the rage on the running trails!
Multiple Colors Available.
We sure hope you feel like taking a nice jog after reading about our picks for the best running jackets for 2017! While you are running those errands or running on that rugged trail, you deserve to be comfortable and stylish. Go ahead and choose which of these cute running jackets are your favorite. What jacket style do you prefer? Let us know in the comments below!