You no longer have to let those spring showers and summer storms hold you indoors. We have found the 6 best women's windbreakers for 2017! You will no longer have to feel like a prisoner in your own home you'll be able to continue to explore the great outdoors even if is down-pouring with 25 mph winds. All of these jackets have windproof and water resistant capabilities. They range from cool classic windbreaker styles in a nice neutral color to super fun spring colors. These windbreaker jackets will keep you warm and dry on even the stormiest days. So don't let excessive winds and rainfall keep you tied down, take a peak at our list and you will be adventuring as soon as your windbreaker arrives in the mail!
Columbia W's Flashback Windbreaker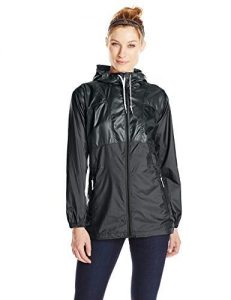 Columbia is well known for making quality clothing tailored to an active outdoors lifestyle. According to customers they did not disappoint with this lightweight windbreaker. This Columbia windbreaker is perfect for those days when there is a drizzle in the air all day long.
This windbreaker is made of water resistant fabric which is perfect for rainy overcast days. This coat also has an elastic adjustable hood and zippered pockets to keep you dry. This jacket comes in sizes extra small to extra large. It comes in 4 fun colors; black shiny, laser red shiny, cypress shiny, and light grape shiny. It also has a slightly longer length than a regular windbreaker, which seems to be a hit with customers!
Customers loved this product giving it a five star rating! They loved the lightweight fabric, the longer length, and the great price! This windbreaker is perfect for those warm spring showers!
Multiple Colors Available.
Carhartt Rockford Windbreaker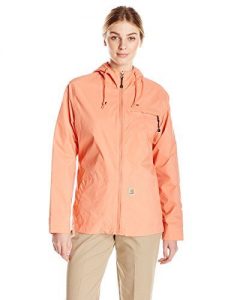 Carhartt makes quality hunting jackets and with this windbreaker there is no exception to its quality. This windbreaker is considered a rain defender, so of course it is on our list for the best windbreakers to protect you from the elements.
This jacket is made with water resistant and wind resistant fabric to keep you dry. This jacket is currently available in sizes extra small to extra large. It also comes in 2 cool spring colors; burnt coral and emerald. This jacket has a hood with an elastic cord to tighten for extra windy situations. It also has a zippered chest pocket and snap button closure side pockets. It has snap adjustments on the wrists for an adjustable fit.
Customers are falling hard for this jacket purchase! They love the spring colors, the roomy fit, and the great quality of this item! You don't want to miss out on this purchase.
Multiple Colors Available.
Adidas Outdoor Wondertag Jacket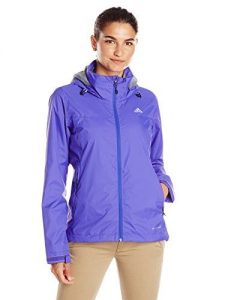 Adidas is a leading brand for sports and activewear. It has been incorporating climate protection to their products for some time now. This Adidas Wondertag jacket is perfect for that protection of rainstorms with windy conditions.
This jacket is a little pricey, but definitely worth the purchase. This jacket has many features including being rain and windproof. It also has very breathable fabric and an adjustable hood. This jacket is available in sizes extra small to extra large. Theres is a nice array of 7 vibrant colors; night flash, vivid berry, semi solar yellow, solar blue, light purple, base green, and black.
Customers are ranting and raving about this product, saying this jacket is great in windy/rainy weather. They say the jacket is very roomy, so you can order a size down if you would like it to be more fitted.
Multiple Colors Available.
Columbia Flash Forward Printed Windbreaker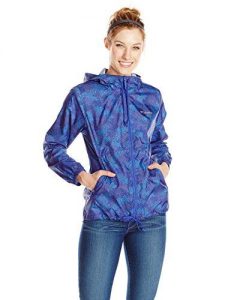 If you're looking for a fun print to add to your storm weather style. This Columbia colorful geometric printed windbreaker is just what you are looking for.
This jacket has water resistant fabric so you stay nice and dry during rainstorms. It also has zippered pockets to keep those rain droplets out. It is also equipped with an elastic adjustable hood and an adjustable waistband in order for you to find the best fit. This jacket comes in sizes extra small to extra large. It is available in 4 fun springtime prints; eclipse blue, geyser print, foxglove floral, and tippet triangle.
Customers love this jacket due its great fit and quality of the item. They did say it is a little thin, so it is better for those warmer stormy days. It is currently on sale, so get it now before the prices rise.
Multiple Colors Available.
Charles River Apparel Front Pocket Classic Pullover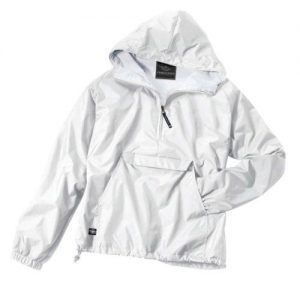 This Charles River Apparel windbreaker brings back that 90's style of jackets with its pullover style and kangaroo pouch pocket. This jacket is designed to be a little oversized, so get ready to feel cozy while you talk your stroll down the block during a calm rainstorm.
This jacket is comfy and warm, because of its water and wind resistant fabric. It has a half zipper on the front, so it's also perfect for when the rain ceases and the sun comes out from behind the storm clouds. There is an adjustable drawstring cord on the waistband for comfort. This jacket is currently available in sizes small to extra extra large. It also comes in 11 different colors! These colors include; forest green, golden yellow, orange, white, cardinal, navy, purple, royal blue, black, maroon, and red.
Customers love this jacket for its ability to keep out the rain and to withstand strong winds. They also love the great price and the roomy fit so they can layer clothing underneath.
Multiple Colors Available.
The North Face Resolve Jacket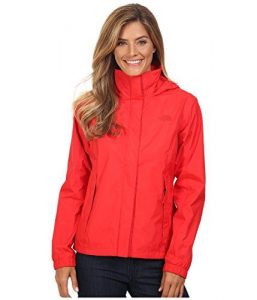 We all probably know someone who owns a North Face jacket and you should definitely know why! These jackets are made with quality and comfort in mind.
This jacket is fantastic with great moisture repellent fabric and it also protects against the wind chill. It is mesh lined for a light weight feel. It has an attached/adjustable hood! This zip front jacket is also featured with a chin guard with a velcro top closure. It is currently available in sizes extra small to triple extra large. It is available in 45 different colors so we are sure there is a color that will suit your style!
Customers adore The North Face products and this jacket is no exception. They love that this jacket really does keep them dry and warm during storms. However the jacket according to some is a little thin, so it might be best for warmer rain storms. They also advise to check the colors as to some look a little different than the picture. Nonetheless, this North Face will definitely compliment almost every outfit!
Multiple Colors Available.
Even though it's warm outside doesn't mean you have to get drenched or end up chilly due to the elements. Try out our 6 best windbreakers list to find the best one for you! You'll no longer have to walk home from school, work, class, or an outdoor activity cold and drenched. What do you think of our picks? Which jacket is your favorite? Let us know in the comments!