Florals… for spring? Groundbreaking! No, we're not channeling our inner Miranda Prestley for this specific time of the year (that's something you should do all year long), but writing this post without thinking about floral prints would be a total disappointment.
Spring is probably our favorite time of the year because we get to leave our coats inside the closet and go out with little light jackets and even just our clothes, for the bravest ones. And nothing says good weather like a beautiful dress. One of the great things about dresses is that we can actually pick from a lot of options for different occasions and weathers. Spring calls for cute colors, good fabrics and of course, prints. But you don't have to stick to florals if you don't want, and here's a great selection that you can wear for this festive season.
Lark & Ro Women's Classic Cap-Sleeve Wrap Dress

Of course, we were starting this list with a floral dress… duh! And not only because of the print, but also because it's a great silhouette. A wrap dress is every woman best friend because it has the most flattering shape for any body type. It hugs your curves and accentuates your waist in a very classic way. This dress, which you can have in over a dozen different options (including solid colors and also prints), features a cap-sleeve, adjustable self-belt, and V-neckline. The length is approximately 39" from the top of the shoulder to the bottom hem, and the fabric is 95% polyester and 5% spandex, for elasticity whenever you need it.
French Connection Women's Spring Tim Dress

One of the great things about spring is having the chance to wear sleeves but, at the same time, not having to worry about wearing stockings or leggings. This great printed French Connection dress is simple fitted but also features a very nice contrasting couple of colors. Made out of 95% cotton and 5% elastane, it lets your skin breathe and also hugs your body, with its bodycon silhouette. And even if you think it's a little bit too short, the sleeves and the slash neck will keep everything in balance. And one of the best things about this dress is that you don't need to send it to the cleaner because is machine washable. Great, huh?
T Tahari Women's Giselle Dress

Light layers dresses are perfect for those moments of the year when the weather is not too windy and not too cold but also, not too hot. And this floral dress says spring all over it, with the contrast and the black lines. It's made out of 100% polyester and imported, with a really pretty layer of crinkle chiffon. The great thing about this dress is how versatile it can be because you can pair it with a cardigan and ankle boots for the first weeks of spring and with a pair of sandals when summer is hitting the door. A good option for every occasion.
Dolce Vita Women's Jonah Maxi Dress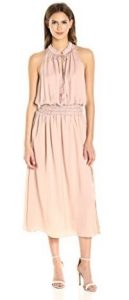 Do you know what happens a lot during spring? Weddings! And these weddings are often placed during the daytime, which calls for a very nice dress, with a 'midi' length and softer colors. The shell and the lining are 100% polyester and on this imported piece, the neckline and the waist are the biggest deals. The first one features a keyhole with tie closures and tassel accents and the second one is smocked and keeps the outfit easy going. It has a ruffled neck trim and if you thought this wasn't sexy enough, look again at that high leg side slit. Do you prefer another color? You can choose the black one.
Catherine Catherine Malandrino Women's Margie Dress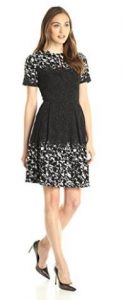 Moving on with the nice dresses that we can wear to a different number of occasions, we have the evolution of the little black dress, which you can take to next level with a delicate print. Catherine by Catherine Malandrino is the designer's affordable line that is perfect for a lot of budgets and it keeps on the good design. It's made out of 55% polyester, 43% rayon and 2% spandex. It's a great option if you need to jump from the office to a dinner, too, not just for weddings. And it can also be the perfect transitional piece for winter if you pair it with the right accessories.
Maggy London Women's Peony Bouquet Printed Crepe Sheath Dress

There are some women who prefer a more stylish and fitted option for spring and especially for those occasions we've been talking about. And what can be more festive that a floral dress with yellow flowers? The good things about this Maggy London dress start with the printing and finish up with the great silhouette. This piece is 96% polyester and 4% spandex, a guarantee that everything will stay in place. This sleeveless sheath dress has a V-neckline and high waist seam, which highlights the darted bodice. In the back, there´s a concealed center zipper and a center vent at hem. The length is perfect for different ages and it will certainly be the favorite of many.
Paper Crown Women's Nogales Dress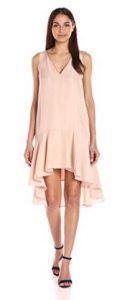 Loose silhouettes and ruffles are still a big thing in fashion. And the more we try to avoid them, the more they keep showing up in every piece of clothing we have. Luckily, ruffles have toned down from past seasons and now we only have them as little details, like the beautiful hem on this pale pink dress. The most eye-catching feature on this is the drop waist silhouette, which stands a huge difference with a lot of dresses out there. The fabric is 52% lyocell and 48% cupro. The peplum hem keeps thing flirty and adds a lot of movement to the high-low skirt. The V-neck is also super flattering and will go perfectly with a pair of maxi-earrings. Try to contrast them with the color of your dress or heels and you will have a winning outfit.
Calvin Klein Women's Crochet Sleeveless Fit & Flare Dress

If there's one Brand that you can go to when it comes to finding clothes for women in different scenarios, that's Calvin Klein. From jeans to shirts to dresses, they have it all for the classic elegant woman in you. And with spring and weddings come white dresses options, although you may want to think the option of wearing white to a wedding if the bride didn't ask you specifically. This dress is so delicate you're going to want it in every color possible, but unfortunately, it only comes in white (sobs in silence). The fit on this is cute and flattering, enhancing your waist and letting the A-line skirt be beautiful on its own. And to top everything, the net in the top and bottom of the dress make it even more interesting, not bad for a white cotton dress.
Rebecca Taylor Women's Sleeveless Penelope Jersey Dress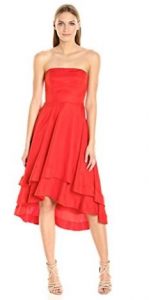 A lot of people think relaxed, loose dresses are just for summer, but you can get beautiful things out of spring fabrics, which are a little bit heavier than the ones you wear in high temperatures. This dress, made by Rebecca Taylor, is the perfect balance between easiness and a pull together piece. The print is elegant, but the length and silhouette keep things young and playful. If you're worried about it being too light, because is made out of linen, you can always pair it with a cardigan or a light sweater, for a big difference. And with a dress like this, you have to take some measures, like dry cleaning or hand wash, as well as soft ironing. Be careful with your clothes.
Paper Crown Women's Armagosa Dress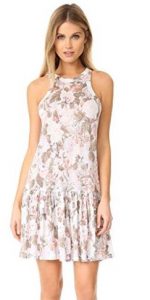 Once again, Paper makes an appearance in our list, with another super fun dress to wear to your most elegant events. And sometimes, a very bright dress is all you need to give a great impression and be the most stylish in the room. And this dress from Paper is all you're going to need ever. Made out of lyocell and cupro, it has a beautiful strapless neckline, with a boning in the bust for support, so you don't have to worry about anything not staying in place. The high-low skirt hem also features two layers of incredible gorgeous ruffles, which can give you the idea of a very hip and fun flamenco dancer. Can you imagine it with your favorite nude heels for a very elegant brunch? Or with an updo for a night out in town? With any of your choices, the result is going to be super chic.