Soon it will be that time of the year where we're allowed to leave the coat at home and not think about the layers we have to wear to go out. Soon it will be hot again and we will be talking about which clothes to use so we can feel lighter and cooler. Or maybe, you're planning a getaway and you need this post with desperation. If that's the case I'm so jealous I could cry right now.
But in any case, we have to set the record straight: summer and hot weather are not for shorts only. There are some cute ways you can pull off a good and chic summer outfit, and we know just where to find the right pieces.
Popana Damask Palazzo Pants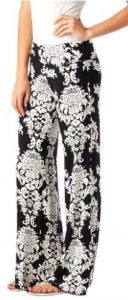 One thing we need in hot weather is a fabric that can 'breath'. Something fresh that allow us to feel the air and not completely locked down on our pants. And these are the pants for that, plus the trendy side of it.
These pants are made out of 95% Rayon and 5% Spandex, just a little bit of stretchiness, like we always need. The waistband is wide and comes with an optional fold for adjusting the length.
Palazzo pants are super trendy right now and you're going to want these pants in every color possible. And for a better feeling for when you put them in your cart, they're "proudly made in the USA".
Lee Women's Modern Series Straight Fit Zuma Cargo Pant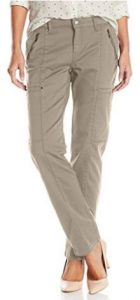 As a brand, Lee has an incredible reputation for making great, comfortable pants. And these cargo ones are not the exception. Especially if we keep in mind that this is a practical purchase: you can pair them with infinite top options and these will definitely be helpful during other seasons as well.
Straight-leg, with zippered pockets at front and welted pockets at legs and rear, this model is one costumer's favorite. They highlight that these are comfortable, affordable and with a great fit. However, it I always important to be careful about the size chart.
The fabrics are different depending on which color you choose, but a wide description is offered before buying. Prices also vary by color.
Cherokee Women's Low-Rise Straight Leg Drawstring Pant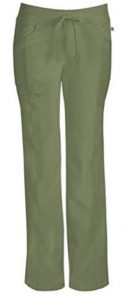 Hot days call for very light materials but also, silhouettes that are loose and flattering at the same time. And if like these pants, variety of colors is also an option, look no further!
Another costumers' favorites, with comments talking about how comfortable and great-fitting these are. There are even opinions saying they have these in different colors, which is no strange given that they're a classic.
Made out of polyester and spandex, their most important feature is a drawstring closure and of course, a cargo pocket. Low rise and straight leg, although not so much to be touching the skin all the time. You should definitely try these ones.
Lee Women's Relaxed-Fit Quinn Knit-Waist Capri Pant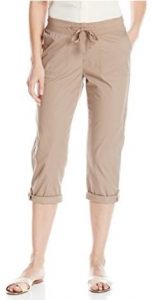 Lee again, with a different fit, a great fabric, and another costumers' favorite. The reason these pants are perfect for the hot weather is because they're made out of 98% cotton, which is the purest fabric you can work with, and the one that 'breathes' the most.
Capri pants are a great option for those people who don't want to live their lives in shorts but still want an option different to pants. But as pants, they have front porkchop pockets and snap-flap pockets at seat.
That and the lovely shades of pastel will steal your heart like they did with mine.
Levi's Women's Bermuda Short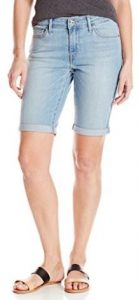 Of course, we can't leave denim out of any pants equation, but when it comes to summer, jeans can be a Little tricky to wear, due to their thick texture. However, denim is always there, and this time the bermudas are ready to steal the show.
Once again, people is not always attracted by shorts. Not everyone has the legs or the age to pull them off, but these ones are perfect for keeping it cool and appropriate at the same time.
The base fabric is cotton, but the percentage varies by color. The size chart is very wide, but the general measures are the same for every size: front rise: 9 inches, back rise: 13 5/8 inch, leg opening: 17 1/2 inch and inseam: 10 inches rolled.
Aeropostale Women's Color Wash Twill Midi Shorts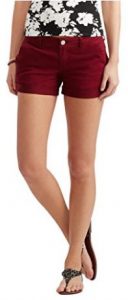 But let's face it, hot weather calls for shorts almost all the time, so of course, we need to include a few of these. And these colorful cute ones are on sale!
The style 7920 in Aeropostale is slim fit and made of 96% cotton, a fresh ingredient for our shorts. They're very resistant, so you can choose whether to machine wash them or send them to the dry cleaning.
One thing costumers said is that the length is pretty good for a different range of heights, so your shorts being too short is something you wouldn't have to worry about.
SheIn Women's Mid Waist Plaid Print Summer Shorts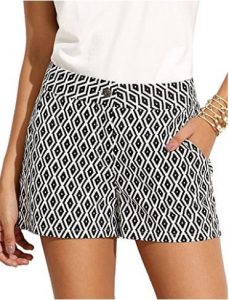 And during the hot temperatures, we often face occasions in where we have to look a little more presentable, so denim shorts or bermudas are not the call. We always will have dresses, but why not thinking about a cute pair of printed shorts?
These black and white beauties are 97% cotton and 3% spandex, with a button fly closure. The fitting varies a lot, so a close and detailed look at the measurement size chart is recommended.
Due to spandex, the fabric has some stretch, but it looks chic enough to be paired with a cute top and your favorite sandals to hit the club.
Wink Gal Women's Summer Boho Playsuit Two Piece Outfits Crop Top And Shorts Set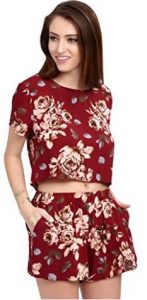 Who says a cute pair of shorts can't come in a set with a crop top to make the perfect outfit at a top price?
The floral print on this set, made from 100% polyester is going to take your heart. They're perfect for a day at the beach, a casual lunch or as part of your travel outfit. The shorts have elastic waistband and the top features invisible zip at the back.
The fabricant recommends to take a close look at the size chart offered by them you're sure your measurements are perfect.