In an era of black, another neutral remains as the perfect secret for every day outfits. Khaki pants are not only classic, but practical and versatile. You can wear them to the office, to a casual day with friends or even to a very fashionable date by just changing the top or accessories. From a very classic fit to the boldest ones, all this chicness in one pair of brown pants, fit for every size and taste.
Lee Uniforms Juniors Curvey Straight Leg Pant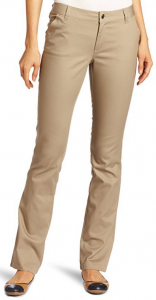 Let's start with the basics. An imported item made of a good mix between cotton (97%) and spandex, which brings versatility to table. These are a classic take on the Khaki style, and can fit anything from casual office where, light errand running/weekend wear, or a special event.
The cut is exactly what we need to have as a secret card for a lot of occasions, and it's definitely something everyone should have in the closet because it can save the day when we need to.
One of the most important features are the pocket, which are actually real in the front, not like those fake ones most pants have now. A perfect choice to have as a staple option for many events.
Other colors available…
Dickies Girl Junior's Worker Bootcut Pant with 2 Back Pockets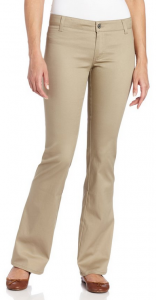 Another classic silhouette, made of 100% cotton and perfect for the classic ones that enjoy a good old bootcut. Midrise, for those ones who like to keep it balanced (not too low, not two high).
Also, the construction of these pants is well made and out of good quality, equipped with our beloved pockets in the back. The good thing about having them is that you can wear them either in a corporate environment or in a more casual way.
Try it with different types of tops and shoes and you'll see the difference.
Multiple Colors Available
Red Fox Women's Twill Jogger Pants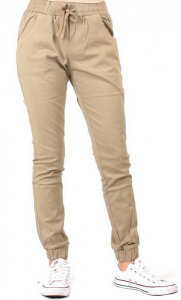 The casual girls are going to be the happiest with this selection, because who wouldn't love the characteristic color of khakis paired with really comfortable pants? In the sport chic era, joggers are an excellent options to add creativity to your outfits.
Of course these are not the typical khaki pants you're used to wear, but they are as good as your old ones and you have style guaranteed. With Span Twill as main material, this jogger pants are good both for your casual Sundays or moving day.
Thinking ahead, they will also be a bold option to attend an event. Try them with a little bit more of a dressy outfit and let's see what happens…
Multiple Colors Available
ToBeInStyle Women's High Waist Boot-Cut Dress Pants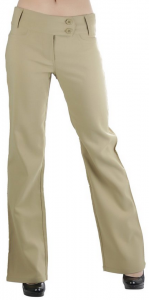 High waist and a wider boot, the answer to our trendy prayers. Palazzo pants are a huge thing right now, going from jeans to fancier pieces.
If you want to try this trend but are still not too convinced, this pull on closure piece will do the trick.
Functional belt loops, front zipper and buttons make them flattering to almost every body shape.
Comfortable and dressy, just like we need for our perfect heels or white shirt. This pair will serve you excellently for everything from work, to semi-formal parties, and work perfectly with high heels.
Multiple Colors Available
Ybenlow Women's Solid Stretch Drawstring Casual Skinny Pants

Keeping the trendy way now we have ripped skinny khaki pants. Yes, they can be all that. This Ybenlow model combine the comfort of cotton with Spandex, which gives it a lot of elasticity without losing its form.
It also has full elastic waist and interesting cargo pockets.
Affordable and practical, it can be an awesome bet for the weekends and even casual Fridays. Not the best choice for a job interview, but a perfect choice for a lazy Sunday.
This are of the costumers' favorites, and it's clear why. Good price and fashion, all in one.
10+ Color options available!
Yelete Women's Basic Five Pocket Stretch Jegging Tights Pants

Leggings have taken the world by storm. And their cousins, jeggings, are coming to us as a colorful new option, with pocket. And pockets are exactly the main attractive of these khakis, followed by the awesome price.
Super soft and stretchy, they meet the first requirement of its kind, embrace the curves. It's the look of jeans/khakis with the form fitting nature of leggings/yoga pants. Your co-workers won't know the difference!
If you enjoy showing off your figure, this is the perfect choice because on top of everything, they look like jeans!
And if our star color is not enough, with that price tag you can also get them in more than a dozen colors.
15+ Color options available!
HyBrid & Company Womens Super Comfy Stretch Ankle Zip Moto Skinny Pants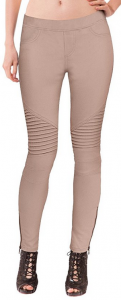 Curvy flattering and, let's face it, a little badass, with a very stretchy waist that provides room to move easily and freely. The benefits of leggings are here with sewing details that give them an extra touch.
This is the way to go for the rebel hearts out there that also have to keep it simple and elegant.
With a focus on comfort, this fabric combo 65% cotton certainly outperforms other comparable options.
They're great to pair with either Converse or high heels, and due to their fit it will be a good base for a variety of outfits, from day to night and office to fun.
Multiple Colors Available
Dockers Women's Detail Pocket Stretch Capri Pant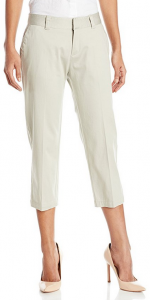 Closing the list there's a classic with a twist: the cropped pants or capris, as we used to called them in the 90's.
They happen to have made a huge comeback this season, and of course a khaki version is available. Think about them as your regular pants with the length you love on your skirt. 97% made out of cotton, the comfort is guaranteed.
Pockets are also important here, keeping this model practical and pretty, the perfect pair for your pumps.