One of the pieces that say 'feminine' like no other one I the skirt. There are so many types of them, but they all have one thing in common: it is their duty to highlight our best features, make us look sexy, feminine and delicate and, if we pick the right one, even hide those things we don't want to show at all.
Between our favorite silhouettes, there's also the possibility to choose among a very wide spectrum of fabrics. And among those fabrics, one of our favorites is definitely leather. I know, is not something you can wear any time of the year, however, is very useful when the temperature goes down and you still want to look sexy but keep your legs warm. Of course, another thing that we have to keep in mind is the fact that leather is not the most affordable fabric and also, not the most eco-friendly out there. That's why we have options like faux leather, pieces that create the same effect but we can get at a fraction of the cost and, on top of everything, we help the planet a little bit, something we should all do more once in a while. So, let's take a peek at some of the options that will take your skirt game to the next level:
Rebecca Taylor Women's Faux Leather Pleat Skirt
One of the most important things you have to take into consideration when buying a faux leather skirt is that the fabric is so good that it looks like leather without been too shiny. After that first requirement, you can start choosing your favorite silhouette and color, like this beautiful navy blue from Rebecca Taylor. This pleated skirt is made out of 85% polyester and 15% other fabrics. As for the lining, is 100% polyester. The great feature on this skirt are the allover accordion pleats, and also the banded waist. Costumers' reviews on this skirt are so great, they're flying out of the window, they're only a few of them in stock, but it's worth the hustle. And as we recommend with all our delicate pieces, try to take it dry cleaning to ensure it lasts longer.
Liverpool Jeans Company Women's Cecil Coated Ponte Pull-On Pencil Skirt
Is there anything that says 'power' louder than a pencil skirt? I don't think so, and neither do the majority of women doing business in the world. And now imagine not only a pencil skirt, but a leather looking pencil skirt. That's power 10 times bigger. And that's exactly what this Liverpool Jeans skirt says loud and clear. Made out of 62% Rayon, 33% Nylon and 5% Spandex, this beauty comes in two great but unusual colors for 'leather': grey and taupe. It's a pull-on ponte skirt that will be handy when it's time to run to your office and it has faux-front pockets and an exposed side zipper. To give it a more casual look, you have clean pockets on the back and a vented back hemline. Pair it with a cute top and killer heels, and there you have it, a great outfit for days.
Junarose Women's Faux Leather Wrap Skirt
And as we're taking a look as pencil skirts, we might do a very good task looking at black pencil skirts. And if you're thinking it would be a little bit too boring (which is not), think again and do it about details. This Junarose skirt is just that, a beautiful classic piece with a fun twist. It's 100% made out of polyurethane and also comes with a lining, something you should be thankful for when we talk about leather, even faux leather, because it helps the fabric to stay away from your skin as much as possible. The design is wrap style, a silhouette that's flattering to almost every woman out there and the length is above the knee, perfect for the office. And the fun part, the zipper details that will give you that edge we all need.
BAILEY 44 Womens Faux Leather Diagonal Seam SEDGWICK Skirt
But, of course, we can't discuss leather (or, in this case, faux leather), without talking about black leather, which is basically the most classic of them all. This A-line skirt is hip and youthful, besides perfect for almost any occasion on your list. Its best feature is the distinctive diagonal seams, which create fullness and movement, with a great length. The fabric is 70% polyurethane and 30& nylon, which gives it a little bit more shine but still in the right amount. To continue with the young vibe, it has an exposed zip and raw cut hem, something that will allow the skirt to move and feel super flirty and confident.
Kensie Women's Soft Fringe Skirt
Fringes are on trend. Period. And what do you do when something is on trend? You get, and you make sure you can pair it with a lot of your clothes and take advantage of it for as long as you can. And that's what you need to do now about fringes, a trend that has been around for a few seasons and that you can still make yours a few others. This Kensie piece is made out 100% of other fibers, and it features layers of long fringes with an asymmetric hemline. Can you imagine this skirt with a silk top and your favorite red sandals? You'll be ready for the night of your life in no time!
BCBGMAXAZRIA Women's Natilie FX Leather Skirt
Maybe we're hitting an obsessive point with pencil skirts. But they're so beautiful and flattering that it is impossible to resist the temptation of having more than one. This specific model, from BCBGMAXAZRIA has an eye-catching color, beautiful burgundy, and vertical seaming that elongates the lines of the piece and of course, it adds more centimeters to your figure. Well, at least visually. It's made out of 100% polyurethane, with a matte shade that will look classy and fancy. It has a fixed natural waist and hidden back zipper, so you can take it to your more elegant occasions. The biggest recommendation on this one is to hand-wash it, you don't want to ruin anything on your machine.
Karen Kane Women's Fringe Pencil Skirt
We already talked about fringes and the big trend we're going through. However, not everyone has the edge to go out with a full fringed skirt and that's not a reason why the trend should not be available for them. This Karen Kane skirt is the perfect option for those girls who would only like one little taste of the trend, with the good things of a classic. This faux leather skirt is made out of 55% polyurethane and 45% polyester. As for the contrast, is 60% lyocell, 34% nylon and 6% spandex. The fun part is that this is a cute short skirt with a fringe-trimmed hemline and concealed side zipper. This will give your outfit a cute and fun twist, as well as a lot of movement.
XOXO Women's Butter Pleather and Ponte Skirt
There are also options for people who would like to have a little edge with leather but would also love to not spend too much money on it and also, keep the trend as an option, not a total decision. And for those ones who are not totally sold on leather, XOXO give them the choice of having it just on one side. This imported skirt is 100% polyurethane and features a faux leather front and ponte-knit back. Its piped seams and asymmetric front slit keep thing sexy and flirty, as well as the pin-tuck style at the hips. With a skirt like this, you'll have a classic with a twist and also a piece everyone would like to talk about.
Sam Edelman Women's Emma Floral Faux-Leather Skirt
One great thing about leather and black is that you can use them both to light up an outfit without using any color. For example, with laser cut that looks like lace. This Sam Edelman piece is certainly youthful and fun but is also one of those pieces of clothing that will start a conversation. It has die-cut floral lace in faux-leather with a cutwork hem, and it's entirely made out of other fibers. The banded waist has an exposed zipper at the back. Do I need to say anything else or you're already in love?
BB Dakota Women's April Faux Leather Fit-and-Flare Dress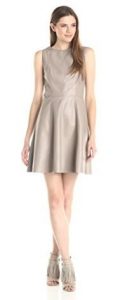 And since we're talking about faux leather, why not closing the list with a dress instead of a skirt? This beautiful piece by BB Dakota is all you're going to need to make a statement, nothing else. The silhouette is not only flattering but it helps the skirt part to keep still, which gives the look a 'princessy' feeling that we adore. It features a fitted bodice with concealed back zipper and pleated skirt, with a zipper closure. And the colors are simply lovely: goat and black.