Have you tried wearing faux leather leggings already?
Modern fashion icons such as Gigi Hadid just love incorporating them in they look, and there is no reason why shouldn't you do the same. Just like jackets made out of faux leather, leggings made of faux leather are cheap but very stylish. Another great thing about this type of material is the fact that they are more comfortable than skinny jeans and vegan-friendly.
Another great thing about this type of material is the fact that they are more comfortable than skinny jeans and they are vegan-friendly.
Stay with me for a few minutes, and I will reveal to you how to combine them and wear them like an Instagram star.
Lysse Women's Plus-Size Plus Vegan Leather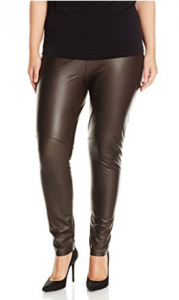 A mixture of great elastic fabrics that look like real leather but feel and look much more comfortable is not reserved only for skinny girls.
As an ultimate choice when it comes to versatility these plus size vegan leather leggings can and should be a part of your outfit because they will boost your confidence.
Full length of these pants makes it safe to wear them in combination with heels but also with flats or sneakers for the relaxed look.
High waist will tuck in those extra pounds and elongate your silhouette.
Lysse Women's High-Waist Vegan Legging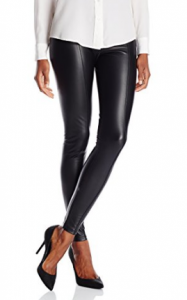 I just love faux leather pants. Once I bought them because I was obsessed with a powerful female character in Danish tv show who was investigating crimes. She wore leggings like this every day and looked so sexy and intelligent, so I went and bought them for myself. I have never regretted that decision.
I realised that it is very important to wear clothes that hug your body perfectly. Then you get more self-confidence and that is more powerful than any workout or diet.
Reviewers from amazon are highly recommending this model of faux leather tights because of its quality, with advice to order one size bigger than usual.
Lyssé Women's Hi Waist Vegan Legging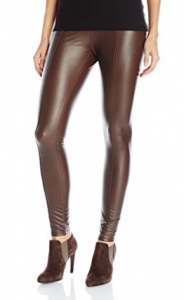 Even tough these bourbon leggings were made out of rayon and spandex, they look like authentic leather. This colour is great if you have a lot of clothes in shades of beige and brown. If you own a worn out sweater that has lost its shape and purpose, the glow from these leggings will upgrade your look and make it look more elegant. Again, it will look so effortless wich is the season's biggest trend.
Brown shoes and suede shoes are good matches with this pair of vegan leggings, but it won't be a big fashion mistake if you decide to wear them for more informal occasions.
To maintain it, you don't have to wash it separately, just put it in a washing machine.
Diamondkit Women Faux Leather Leggings Wet Look Metallic Waist Legging Pants Trousers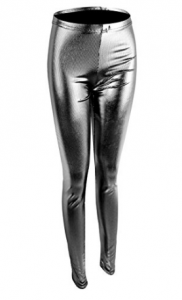 Liquid looking leggings may seem a bit extravagant but they are so effective! I couldn't decide wich colour choose from 17 different models. There are black, silver, golden, green, pink, blue… You can use black or silver and combine them with sweaters and jackets wich are more elegant. But you won't go wrong even if you try reptile skin texture.
You can use black or silver and combine them with sweaters and jackets wich are more elegant. But you won't go wrong even if you try reptile skin texture.
Fuscia pink and blue can look great in discotheques and clubs, or for any kind of festival because they are so vibrant and fun. As you already know, leggings are very comfortable, and you can use them while travelling. If you are a fan of winter sports you can also choose one of those interesting colours, so that everybody can see you while you are in your skies.
Advice from previous buyers is that you should order the bigger size than you are and you are good to go.
PU Leather Pants For Women Sexy Tight Stretchy Rider Leggings Black Red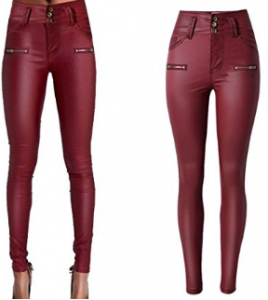 Burgundy is here to stay as dominant colour in outfits of famous Instagramers and models. Colour of wine is very elegant, and it is easy to combine with earth tones. You can even wear some of darker shades of lipsticks for achieving the more mysterious look.
I would wear these with a big cosy poncho and matte chocolate lipstick.
There are also other models for the same price from this distributor, and they are more appropriate if you are into riding bikes or attending punk rock events. An important thing to know is that these zippers are here just for decoration, and they are not pockets. They are put just to give these pants edgyier look.
Cielo Women's Super Trendy Faux Skinny Pants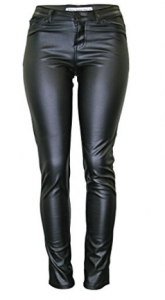 Let's go back to black leggings!
If you are trying to cut your expenses but still look the best way possible don't experiment with colours. Choose the black classic model of leggings wich can easily transition from daytime to night time.
Cielo skinny pants will make you look very hot because of the material that hugs your hips and legs perfectly. If you maintain them in the right way (machine wash warm and no bleaching) they are very durable, and you can count on them for another season.
To avoid returns, please use size breakdown just to make sure that you have ordered the right size because these are junior fit.
iPretty SEXY Women's Faux Leather High Waisted Wet Look Liquid Black Leggings Stretchy Pants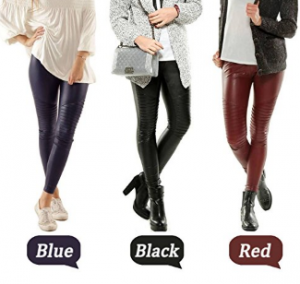 Blue leggings for a daytime since they look like a more polished version of jeans leggings, black with high heels for a walk around clubs, and red for date nights. These stretchy pants made out of synthetic leather are very fashionable because of their cool punk knees fold design and comfort high waist.
Combine them with sloppy blouses, big elegant sweaters or jackets depending on the part of the day, or your duties.
As the reviewers of this product say, the material is very breathable and it expands easily. Another cool thing about this leggings is the fact that doesn't make that irritating noise when it rubs together.
7 For All Mankind Women's Cropped Skinny Pant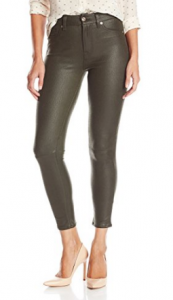 Military green was all over the latest fashion shows and definitely, deserves to become one of the colours that you will combine your white and black blouses with. This shape of skinny pants is just perfect to elongate your silhouette and to make you look slimmer because of the open ankles.
It is a great match with nude stilettos but you shouldn't hesitate to wear them combined with embroidered bomber jacket and sneakers. Just try to be modest with the details, because today's fashion is all about modesty and looking like you haven't tried too much.
You can also steal the idea from this picture and combine it with a white comfortable blouse and nude shoes.