Technology in creating faux leather jackets is so advanced these days, that you can't even spot the difference between the real-deal and the faux-deal. If you are trying to save the planet and animals by going vegan, faux leather is the way to go. Not only you will be fighting for the great cause, but you will save money.
In case that you don't really care about that, and you only care about good quality, there is nothing to worry about.  These jackets are the highest quality so only you will know it's faux.
Famous fashion brands like Levis and Calvin Klein have already decided to use faux leather in creating perfect jackets which will blow your mind, and polish your look. Prepare yourself for 10 best vegan leather jackets that you will want to wear this spring!
Prepare yourself for 10 best faux leather jackets that you will want to wear this spring!
Calvin Klein Women's Long Sleeve Faux Leather Jacket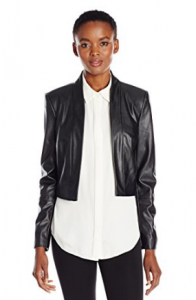 Long sleeves will keep you warm if you decide to wear this jacket in first days of spring. It matches perfectly with feminine dresses, but because of its structure, you can use it as an addition to your business look.
As you can see in this picture, it looks really cool with long shirt and leggings, so it can alter even the most boring combinations that you have.
Important information is that this jacket is made of polyester, and it should be only dry cleaned.
Levi's Women's Faux-Leather Bomber Jacket with Jersey Knit Hood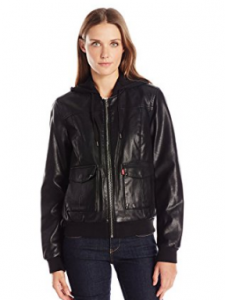 Levis is familiar by awesome jeans jackets, but they are not far behind in making perfect faux leather products such as this. The knit hood is not a perfect companion during the spring showers, but sure it can help if you feel chilly. Or if you want to hide on your bad hair day.
Big pockets in front and hoodie make this bomber jacket look more different than the others, and isn't that one of the most important things today – to look different than others, but still very cool.
Women who don't like this masculine type of jacket, don't be afraid, this is the only one on the list.
Levi's Women's Faux Leather Asymmetrical Diamond Quilted Motorcycle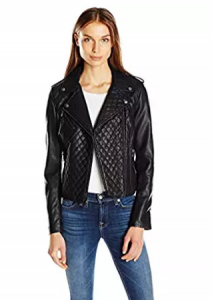 This jacket made of faux leather is just everyone's favorite! It feels like wearing a thin leather jacket but it is warm, and it looks like it is tailored for one, but it fits everybody.
There are a few pockets but they are not as deep as the one on the previous model, so you will probably need to wear a bag for your keys, telephone and valet. Yeah, I know that is not really a flaw, but I can't just write only good things.
I almost forgot, there is one more problem. If you decide to buy this one it will be hard to the color because it is made in black, cognac and navy. And they all look stunning.
Levi's Women's Asymmetrical Sherpa-Lined Faux-Fur Jacket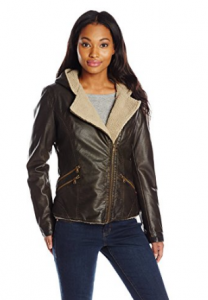 Isn't it obvious that Levis has got me this time with excellent faux fur jackets all over the place? This brown jacket from Levis just had to be on this list of my favorites, because I have a thing with furry collars.
The asymmetrical main zip allows you to get a few different looks while wearing this jacket. Zippers are also put on pockets, so you don't have to worry about the stuff inside your pockets.
Good accessory to this jacket would be a bulky scarf and long boots over the knees combined with the feminine floral dress.
GUESS Women's Faux Suede Zip-up Jacket
The beginning of spring can be quite moody. That's why you should take in consideration longer jackets if you like your stomach covered.
Asymmetrical zipper closure adds edge to your look and keeps you warm.
Two pockets on the side are very practical for warming your hands and keeping your telephone and keys near you. Another fabulous thing about this faux leather jacket is its notch collar made of faux suede.
Combine it with a big faux leather bag, and furry hat.
Bb Dakota Women's Bb Dakota Carmen Jacket, M, Black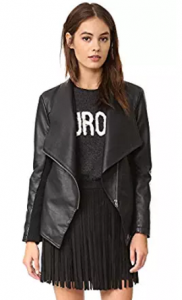 If you are looking for contemporary faux leather jacket which can be used to upgrade casual look this is the one. The modern shape of this jacket will make you look more powerful and red lipstick will make you look like the rock star.
Combine this jacket with t-shirts of your favorite musicians or some smart quote and you are ready for a date with that handsome drummer.
If you don't know any handsome drummers jet, then use this combination for a ladies night in a pub.
Dolce Vita Women's Brushed Faux Leather Aiden Jacket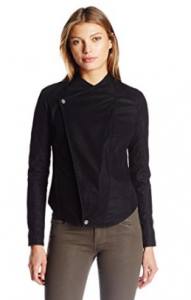 In case that you don't like leather glow, or you already have a lot of those in your closet (lucky you), brushed faux leather jacket is perfect for you. It is soft to touch and much different than anything you have ever worn.
You can combine it with suede boots and you will get that world traveler look. On every sleeve, you have a zipper which makes this jacket more edgy and practical if you want more space around your wrists.
Lucky Brand Women's Faux Leather Jacket with Faux Shearling Interior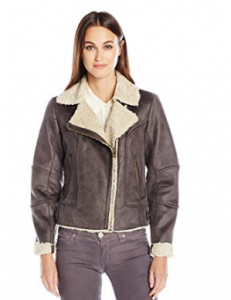 This aviator inspired jacket is my favorite! The faux leather on this one is not black, so it makes it look more like a unique piece. Faux fur on the collar is so cute and fuzzy, and it gives a natural vibe, although these material are not taken from nature.
This jacket has faux fur lining so it can be worn with no layers at all. It is warm, and the fact that you don't have to wear a lot underneath makes it very practical if you are women on the go.
LE3NO Womens Faux Leather Zip Up Moto Biker Jac
ket with Pockets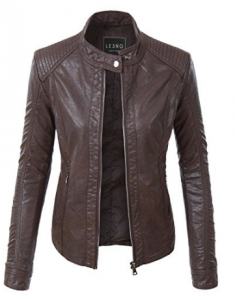 Jacket made of faux leather that has a color of milky chocolate! Just perfect! This classical shape of the jacket makes it easy to combine with almost every outfit that you have, so it makes it very practical. Women who have already purchased this jacket are thrilled with its quality, and they all say that it feels like real leather.
The only thing that you should pay attention when buying is the size chart, so be careful and measure yourself.
Verdusa Women's Faux Leather Motorcycle Biker Short Coat Jacket Slim Zipper Jacket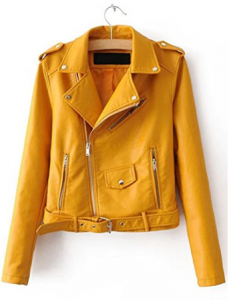 Wow! What a colour! In spring it is not rare to see yellow raincoats, but it is not very easy to see a biker jacket looking like this! I just can't get over how cool this belt looks and I think it will be very hard for me to go to sleep without buying this one.
Maybe this look is too dramatic for you, but sometimes you have to make brave fashion decisions and not look like everybody else.
All my love to designers of this masterpiece!