Women are different. There is not one that looks the same than the other (no matter how fashion trends try). And the same thing applies for forms and body types. But that, as beautiful as it sounds, also means that every one of us has to deal with different hacks when it comes to dressing and it's not always cool.
One of the most common problems for girls out there are the thighs. Even so, if we all have big thighs it would be difficult to find clothes that work for everyone. And girls with muscular legs know the struggle of finding the perfect pair of pants that are not black and worst, the perfect pair of jeans. But there's a pair of jeans out there that would work for you. You just have to keep some things in mind.
First of all, super tight skinny jeans are out of the question if you don't want your thighs to look bigger than they already are. If you're proud of your curves you can flaunt them, but it won't be appropriate for every situation in life. Your best friend now and for the years to come are going to be boyfriend jeans and some cute boot cut jeans If you're not afraid to this classic. But there are modern ways in which you can rock your spectacular body. Just keep reading!
Silver Jeans Women's Boyfriend Short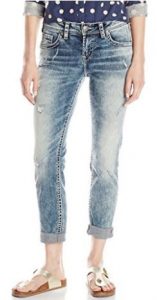 Yes, not all boyfriend jeans are like the loose sloppy you imagined. Some of them, like this Silver Jeans model, keep things in the right balance between casual and cool.
Made out of a mix of cotton, polyester, viscose, and elastane, these jeans are perfect for that comfy feeling we look for every day.
The mid-rise will help the problem areas and make the thigh area look a little bit slimmer add the slim fit will complete that task.
And of course, it has all the cool details: rolled cuffs, contrast stitching and embroidered back pockets.
Big Star Women's Billie Boyfriend Skinny-slouchy Jean Lightly Faded Ocean Blue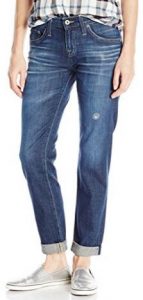 If you're looking for a darker, more classic color, then you should turn your head to this. This model looks a lot more like the original boyfriend jean, and it still keeps a girly skinny shape. How does it work for your figure? By being a little bit looser from your hips down, it gives you a slimmer look that we all have.
Although the price tag on these jeans might seem a little too much, customer reviews totally approve them, which indicates an investment. And let´s be honest here, this model will be around forever so it would never go out of style. A little bit more rigid than the last model, they're made out of 98% cotton and 2% elastane.
The subtle 'wash' and distressing would help you create a more relaxed look, while the rolled cuffs will give you the chance to flash your shoes. Whether they're heels or flats, they would look perfect.
J Brand Jeans Women's Alana High Rise Crop Skinny Jean
One thing you need to know: besides boyfriend jeans, crop denim can save your day. If you use it wisely, this kind of pants can work for any outfit you can imagine, from upper relaxed to heels ready.
And if you pick a pair in black, you're also going to be office ready.
J Brand is known for being one of the biggest brands making jeans on the market, and they have that title for a reason.
These black jeans are perfect for every outfit you can imagine, and you can even see the quality in the pictures. Simple and perfect, they have a fabric mix of 94% cotton, 4% polyester, and 2% Lycra Spandex.
Jag Jeans Women's Malia Slim Pull-On Jean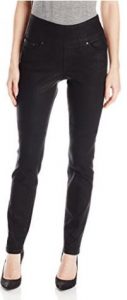 And if you're not exactly a fan of crop jeans, this is the option for you. I know a few lines above we said that black shouldn't be your go-to option, but black pants are a must in everyone's closet. Both women and men.
These jeans will give you the impression of tight pants without looking uncomfortable.
That's why it has elastane on its materials and elastic closure on the waist. Being pull-on, they will be easier to wear off you need to make every second count.
And the other blessing of the banded waist is the high-rise which makes it even slimmer.
HUE Women's Essential Denim Bootcut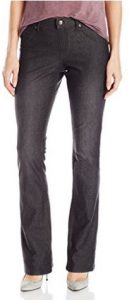 In the past, boot cut jeans have been undermined and treated as boring, but reality is these jeans are classic and everyone should own at least a pair.
They're perfect for more dress-up occasions and will go perfectly with your cutest tops and jackets.
They're casual pull-on legging texture with comfortable stretch, thanks to their 6% spandex component, but they still keep the faux front pockets and fly.
The boot cut silhouette features a small flare at the knee, making these jeans a little bit trendy and cool. The pockets in the back are functional because we can't function without pockets, right?
PAIGE Women's Manhattan Boot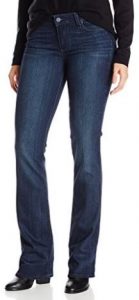 Yes, you may have been wishing for a more 'jeans-like' color in a boot cut. And Paige has the perfect pair, with a great balance between cut, color, and quality. The prices vary a little between sizes, but judging by customer reviews, these are definitely five-star jeans.
The fabrics are divided: 51% Rayon, 33% Cotton, 15% Polyester, 1% Spandex in that indigo blue we all love and wish. If you're not exactly a fan of distressing or whiskering, this should be your first choice, which also promises a super soft denim that adapts quickly to your body.
Good fit and a classic color and silhouette, take my money!
Levi's Women's the Culotte Jean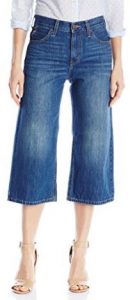 Yes! There are trendy options for the curvy athletic ladies out there that will look good and also be affordable. Levi's is a denim expert, and this model called 'The Culotte' is perfect for giving your jeans look a twist.
The structure begins with a high rise and great fit at the waist, and a relaxed fit as seems to go down. They're imported and made 100% out of cotton, which only makes us imagine how comfortable and good they should feel.
And if you were worried about them losing the essence of Levi's, take a look a the back: the classic pockets and silhouette are still there, only in a cooler form you can wear with your favorite heels to go to lunch and pair them with a cute top and be the trendiest girl in town.