Yoga is one of the best ways to both exercise and giving your body and mind a time off from the daily stress. The most dedicated people will even tell you that yoga changed their lives since it became a whole mindset and not some workout they do every other day.
And of course, clothes are important in yoga too. You don't want to look boring, but ready to be the best one, and the most stylish. And of course, while leggings and trousers are important, we're probably missing that yoga shirts are extremely relevant as well. Why? They're going to be holding a main part of your body during training, so we have to pay a little bit more attention. Of course, comfort is the starting point, and that's why while we can use some of our regular working out outfits, we can't do that with every single piece of clothing because you don't want anything slipping out or making you hate the time you're wearing it during your yoga positions.
So, to help you with that matter, we've gather some options of yoga shirts that you will find comfortable, affordable and (because someone has to look for them) cute!
Alo Yoga Women's Heat Wave Tank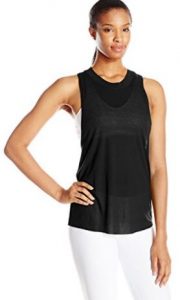 One feature you want your yoga shirts to have is a certain fit, so you don't have it hanging over your head when you're doing a certain position. And of course, all that while you feel perfectly comfortable with what you're wearing. Alo is the go-to brand when it comes to yoga clothing, with premium materials and technology, as well as designs that can make you ready to class to the street in one minute. This top features a very trendy dropped armhole, which gives you the chance to make a pretty contrast with the color of your top. Can you imagine that white top with a neon sports bra underneath? The black one can make the same effect. Made out of 65% polyester and 35% rayon, it gives you a great structure and really fresh support.
Alo Yoga Women's Wanderer Long Sleeve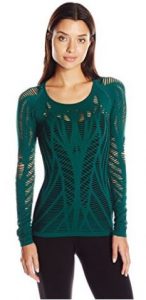 But if you're looking for something with a little bit more structure, then this model is for you. Also super trendy and with amazing engineered cut out details, the long sleeves provide you a more pulled-off look that you can take advantage of. One great thing about this yoga shirt is that it gives you the opportunity to be more covered if you want: just pair with a tank top underneath and the job will be done. As many of the Alo designs, this one is seamless and promises you ultimate comfort. Plus, it also gives you the chance to make one outfit work for two different scenarios. Just picture that top with your favorite pair of jeans if you have to go meet some friends after your training (and a shower, please)?
Reebok Women's Yoga Burn Out Short Sleeve Tee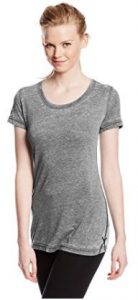 Even though some of us prefer the specialized options for our clothing, other girls just need something more practical and a few more uses. That's exactly what this Reebok tee is. Its biggest feature is that it provides you total freedom of movement, alongside with amazing breathability thanks to its lightweight burnout fabrication and its fabric: 65% polyester and 35% cotton, definitely something that it's going to make you want to die from the heat. The length is also a great plus, for all the girls out there who don't exactly like short shirts or risking any other wardrobe malfunction or letting people see what they don't want (I think in some way, none of us wants that).
Nanette Lepore Play Women's Lace Moire Workout Tank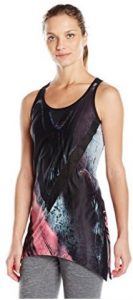 And who said yoga shirts can only play the one-tone card and leave the prints out of the training? Prints are also a great way to put fun on your outfit. And the design not only stays in a colorful pattern but also an interesting mix of texture, with panels covered with lace for an extra cool look. But the printed on this yoga shirt is not only for entertaining, the fabric is also active and functional, with wicking properties, which means in case you break a sweat, your top is going to be there for you. It will sure be a great option for going with your black leggings.
Calvin Klein Performance Women's Distressed Fleece and Thermal Top
Most women prefer to be more covered when they're exercising, but that doesn't mean they're willing to be bothered by the heat. Calvin Klein thought about that and designed a shirt that is great for your routine and also for slipping it on after you're done. The great part is that it's soft, light weighted and is very easy to wear. The front has been layered for thermal texture and it also looks really cool, especially for the raw edge detailing. Definitely, an option you can get a lot of use to while you step out of the gym looking like nothing can disturb you.
Alo Yoga Women's Elite Tank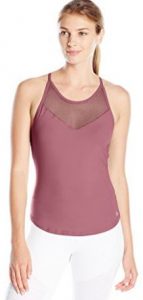 Again, we come back to Alo, because they basically have one option for every girl out there. This simple tank is the answer for those days when you want to feel simple but keep things interesting and comfortable as we like it. Costumers highlight the fit on this yoga shirt, which is made 87% out of polyester and 13% spandex, this will help the top stay in place. If you're a fan of layering over your bra or top, this is the option for you. And on top of the other features, they didn't forget about breathability on this one. With mesh blocking in the front and back, you wouldn't feel like your sweating at all.
Under Armour Women's ColdGear Cozy Printed 1/2 Zip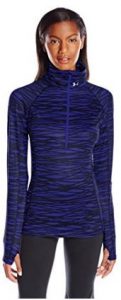 The good thing about the jackets for training is that you can both use them during your routine or to give a pull together look when you're getting inside and outside class. This Under Armour piece does just that, combined with great technology. The most remarkable feature is the dual-layer EVO ColdGear construction, which combines a smooth, fast-drying exterior with a brushed, heat-trapping interior. That means even if you're sweating in the outside, people won't be able to see a thing. For and easy on/off, it has a deep ½ zip, and the tech keeps up with their signature Moisture Transport System, another tool to keep you dry and light. And if you thought it was only going to be a boring jacket, check again: the mélange texture will also allow you to have a hip, cool choice of clothing.
Columbia Women's Silver Falls Long Sleeve Shirt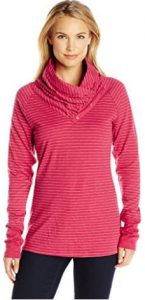 Still going with the long sleeves idea, we found this Columbia shirt, which stands in the promise of keeping you cool while also keeping you covered. The length is perfect to use with your favorite leggings because it also covers the tricky areas when you're moving up and down. And although this yoga shirt seems very cozy, is made out of 100% cotton, a guarantee of freshness under any circumstance.
New Balance Women's Fashion Crop Top Sports Bra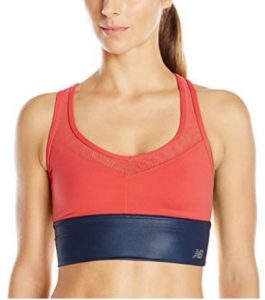 And as well as they're girls out there who prefer to be covered during a yoga session, there are others that just like to feel free, although with enough support to keep everything in place. And that is exactly what this New Balance top is going to do for all the yogis who still like to feel flexible and comfortable while training. It's made out of 100% fibers, which means this is built with a lot of technology to provide freedom of movement and breathability. The knit body is a Nylon and Spanx combination, and the bottom part features a leather like stretch knit and power mesh and, let's face it, it is the coolest part of the top. And of course, it has NB dry moisture wicking releases technology that is fast drying and moistures away from the body. The laser cut in the back will make you look athletic and tough, trust me!
Maaji Women's Enchanted Spirit Expanded Wish Travel Tank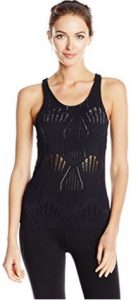 This Colombian brand is suddenly taking the step from swimwear to activewear and it's clearly doing great on both fronts. This cute laser cut and lace detail top are the perfect proof for that. Made out of 75% Nylon, 19% Polyester and 6% Spandex, is promises to keep everything in place while looking really edgy. Being black, you can let your imagination run and try both solid bra colors or contrasts ones. And also, you can wear it with short or long tops underneath, which will be almost if you're wearing different outfits. And we all know how important that is for us women out there, right?