Sleep experts like to provide us with all sorts of advice when it comes to achieving the perfect night's sleep, frequently laboring the importance of establishing a bedtime routine and even making suggestions as to what we should eat each night before retiring. Very few of them, however, seem to appreciate the contribution that the correct sleepwear can make to achieving this end goal. Don't believe me? Try wearing your warmest 'winceys' on the hottest night in July and see how well you sleep. For most women now the question of which pajamas to wear goes beyond season, but is also a question of occasion.
1. Del Rossa Women's Satin Pajamas, Long Button-Down PJ Set and Mask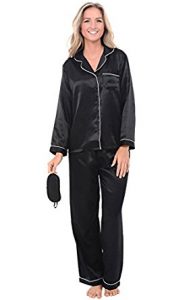 Okay, so your partner, as a special treat, has booked a weekend away in a luxury hotel. What pajamas do you want to be seen wearing should the fire alarm go off in the middle of the night and you're forced to make small talk with the other guests whilst waiting for the all-clear?
Certainly not the tatty t-shirt and torn leggings you usually wear at home. No. You want to be wearing these. 100% satin polyester, these pajamas create the same feeling of luxury found with authentic silk pajamas, but come without the hefty price tag nor the expensive dry cleaning bills.
Available in a variety of colors, and sizes (X small to XXX large), these pajamas also come with a matching satin eye mask, further insuring a really good nights sleep.
2. Women's Sexy Basic Plain Lingerie Set, Lace Slim Camisole and Knickers Sleepwear Pajama Set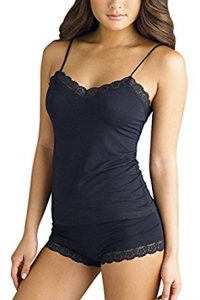 In terms of a suitable occasion on which to wear this pajama set, the clue is in the title and summed up best by a reviewer who described them as 'sexy without being too revealing.'
Available in sizes 8 – 18 (UK), this set is made from 95% cotton and has an ultra-soft feeling usually only present in more expensive pajamas, making them excellent value for money.
The measurements for each set provided by the manufacturer are very precise, so as long as you 'measure up' before purchase there shouldn't be any problems as to fit. If this should happen, as one reviewer experienced, this set can also double up as underwear.
3. Carole Hochman Midnight Ladies 2-piece Modal Pajama Set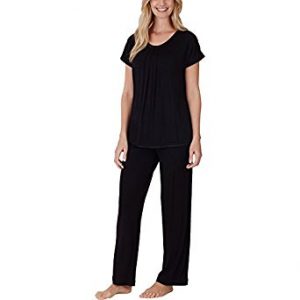 Doubling up as lounge-wear these are the perfect 'lazy Sunday' pajamas and have such straightforward style that if anyone unexpected should knock on your door, it would be impossible for them to tell that you're still in your jammies.
95% modal these pajamas are comfortable to wear and keep their shape after washing. Available in a variety of colors and patterns and in a full range of sizes, these pajamas make for the perfect multi-seasonal all-rounder.
4. Camille Women's Ladies Gold Satin Pajama Set With a Red Floral Print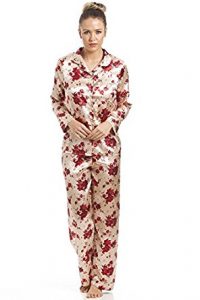 Okay. You've had the very worst of days. You got a written warning from your boss. You broke down in rush hour traffic. You came home to a toilet that needed unblocking.
The kids squabbled all the way through dinner and now you have spaghetti in your hair and hate everything. You need some serious 'ME' time and these are serious 'ME' time pajamas.
Light some candles, run a scented bath and then, when done, slip on these beautifully feminine, satin-feel pajamas and remind yourself just how special you actually are.
These pajamas are easily washable 100% polyester, come in sizes 12 – 20 (UK), and are available in two different colors so you can buy yourself another pair and repeat the whole process again until the world agrees to behave itself.
5. Carole Hochman Women's Floral Cotton Capri PJ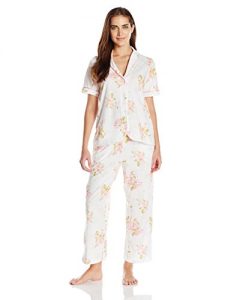 'Florals, for Spring? Ground-breaking.' Meryl Streep's excellently delivered put-down in The Devil Wears Prada overlooks the point that there is something definitively fresh-feeling and spring-like about florals, especially when it comes to pajamas.
Made from 100% cotton, these pajamas are light enough to make them the perfect sleepwear for the warmer months.
Available in a single print and colour (Magnolia Blossom), the shawl collar, tulip hem and contrasting piping give these pajamas a stylish and tailored appeal and, although limited when it comes to sizes available (X-small to medium), the drawstring waist gives a little lee-way to ladies that may be smaller up top but bigger on the bottom.
6. Ladies Blue Sea Winceyette Brushed 100% Cotton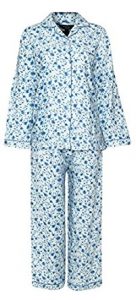 When the nights get dark and the clocks go back there is nothing to beat the pure softness, warmth and comfort that comes from a pair of winceyette pajamas. It doesn't matter what sort of day you've had, 'winceys' will put you right again.
If winceyette pajamas do have a drawback, it is that being essentially seasonal items you can be hard pushed to find a pair that isn't covered in robins, reindeer or snow bunnies – cute and fun at Christmas but redundant come February. These 'winceys' with their floral pattern (in either pink or blue) are a rarity.
Available in sizes 12-14, 16-18, 20-22, 24-26 (UK), they come with an elasticated waist and being 100% cotton keep their softness right the way round to Spring.
7. Kindred Bravely the Davy Ultra Soft Maternity & Nursing Pajamas Sleepwear Set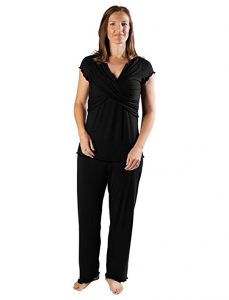 You've just had a baby. You currently exist in a permanent state of both shock and exhaustion. Your breasts are swollen and your nipples sore.
You continually want to weep and it seems like years since you last saw your feet. The most expensive pajamas on this list – Mums – you deserve these pajamas.
Designed to fit right through your pregnancy and discreet enough when nursing, these pajamas are so stylish, soft and comfortable that you probably won't want to take them off.
One reviewer wearing the top out matched with a pair of jeans. These pajamas are available in six colors and in sizes ranging from small to XX-large.