Your pants speak volumes about your personality. There is no denying we already love the versatility of the skinny black jeans, a wardrobe essential, and it has even taken on a whole new level of style. Eventually, it can turn into your favorite night-out denim, casual weekend pants, as well as a super slimming ensemble.
But for some reason, it has always been tough to find a good pair. They often fade and sag, making your outfit a little drab. Here, we want you to take the stress out of black skinny pants shopping with these upbeat suggestions.
J Brand 620 Mid-Rise Super Skinny Denim Jeans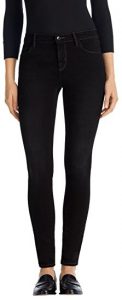 Most of the black pants fade away easily, and it's like you are spending $200 for something that is going to last for only a few washes. We know what you go through, and that is why we have something for you that will look as new as you bought on the first day.
The J Brand pair is one of the most demanded among the Seriously Black Collection, which is designed in a way to keep it new alike.
93% cotton, this 8-inch rise pant has a 4-pocket styling with zipper fly and button closure. This timeless pair of jet black skinny pant will also offer you a great fitting, and that is why it deserves to be an integral part of your wardrobe
Frame Denim Le Color Rip Skinny Jeans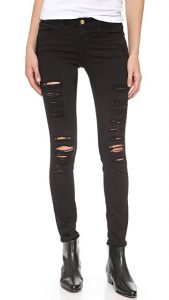 Aren't you always in search of insanely comfortable pants? FRAME Women's Rip Skinny Pant has got everything that you look for in skinny jeans, with the added style of being "distressed" and torn.
Composed with 91.5% of cotton and 6% polyester, this item demands cold wash.
Made in the USA, this super-stretch denim can be paired with a tucked in shirt.
Reviewers give this product high ratings across the board, and that makes it a safe buy.
Current/Elliott The Stiletto Cropped Jeans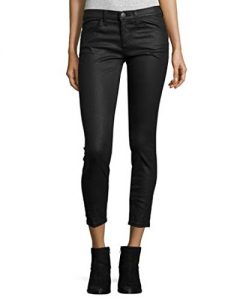 This one is my personal pick, and I always make sure it is there in my wardrobe. Soft, snuggly, and sharp, you can grab it even if you are in a mood to party or for an unexpected store visit. As per the name suggests, the cropped ankle length gives you the chance to flaunt your favorite pair of stilettos too.
Current/Elliott "The Stiletto" figure-hugging skinny jeans can be stretched easily due to its super stretched fabric. With this piece in your closet, you cannot go wrong with your style.
Manufactured in the USA, the rise of this pant comfortably sits below the natural waist. And, don't you worry, even after being an excellent fit, it offers a five pocket style so that you can tuck in your cell phone with ease.
7 For All Mankind Women's High-Waist Jean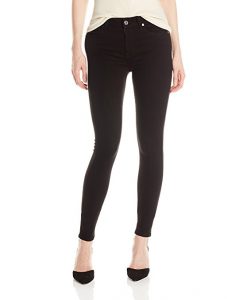 Super soft and just the right shed and height that most of the women look for! Available in dark rich black, it comfortably fits without being tight. You can't call it a Capri or an ankle pant, yet it's the perfect black skinny pant that you would have been searching for a while.
Due to their length, slip-on sneakers or any shoe wear that you like to flaunt, work wonders. Which means, you will never have to worry about the shoes again.
The image here will give you the idea of how you should sport it out. For me, a white sneaker and a casual shirt or top work fine with it. All over, this short-and-sweet version is a must-have for gals who like it a bit chic and stylish.
AGOLDE SOPHIE HIGH RISE SKINNY JEANS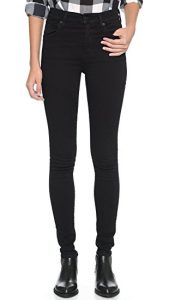 Reviewers rave over the Agolde Sophie High Rise Skinny Jeans; I heard someone saying that it's the best you can buy in this range and that made me try it.
And, no doubt it is one of the best pieces I have in my closet. The super stretch fabric offers a figure-hugging fitting and acts as the second skin to your body without being tight.
Whenever, I am wearing a check shirt, I don't have to look further than this high rise skinny jean. As for the black color, it doesn't seem to fade away no matter how many times you launder it.
As per the reviews, users give this 98% cotton denim a 5-star rating. Wear it on any particular day or during the work hours; the choice is all yours.
Hudson Women's Nico Mid-Rise Skinny Jean In Influencer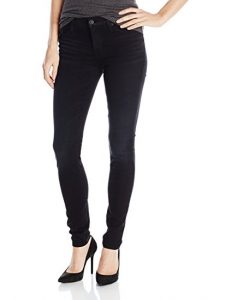 Most of the girls dread wearing muffin tops and blame it on the imperfect pants, but here you have a pant with a 9-inch rise that will beautifully hold your waist.
When you sport it, your legs automatically look slimmer and toned. The great part is they are available in regular, tall, and taller sizes too. So, you can easily find the right choice for your skinny black pant.
You don't even have to worry about losing the color as it is made to remain new alike.
Bring it on now and feel the comfort it offers.
DL1961 Women's Margaux Instascuplt Ankle Skinny Jeans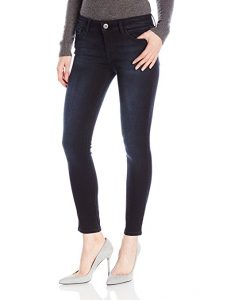 Lighten up your look with the dark denim look provided by Margaux Instasculpt. They are loved for their four-way stretch and comfortable feel.
Consider them as the softest denim you can have in your wardrobe, and that is the reason I have one in my own.
Buy them if you want to stay in your comfort zone without defying the elegance. 62% modal and 23% cotton, this no fade black pant can handle many washes without fading.
Levi's Women's Slimming Skinny Jeans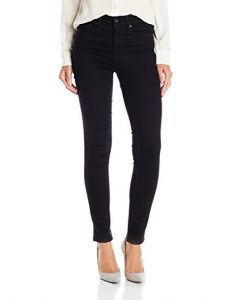 I didn't expect such versatility for such an incredible price. From movie stars, fashion icons to farmers everyone love this Levi's clothing.
I make sure to have at least two pairs of Levis jeans in my closet, but this one remains my all time favorite.
You don't have to tug them up to cover your tummy, and they look just flattering to make you look confident. I take it out of my wardrobe, whenever I like to throw a sassy look, and it works perfectly for me.
MOTHER Women's The Looker Frayed Ankle Jeans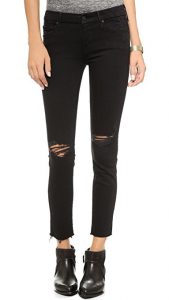 I was looking for a distressed black pant and came across this beautiful pair of jeans. Ankle-cropped hems and shredded holes toughen the look of this skinny jean. For me, it's something that I will always like to have in my closet.