Leggings are one of my favorite pieces of clothes because they can be worn with almost everything. During the winter they can be one of the layers beneath your pants and keep you warm. They are elastic and soft, so they make an excellent choice for traveling. Some women use them instead of pajamas while they are away from home. I use them to save space in my suitcase. Why would I put pajamas in my suitcase when I can take leggings with me and use them for my activities during the day, and sleep in them during the night.
But, there is only one problem with this multiple uses of leggings. If they are not made out of quality materials, they become see through. And you can toss them because you don't want your underwear flashing everywhere.
In order to help you to buy great black leggings that will suit you, I checked out a lot of reviews and opinions about best leggings out there.  Let's take a look!
Jockey Women's Ankle Legging with Wide Waistband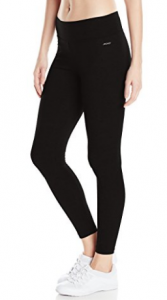 When you are looking for a perfect black legging you are looking for comfort and durability. These leggings are made of 92% cotton and 8% spandex. Natural but elastic.
The best part of this legging is wide elastic waistband wich makes them perfect for exercises. You can do yoga, pilates, and aerobics easily because they don't pinch around the waist.
Reviewers claim that these are not seen trough and the material is thick, so you can wear them as pants when you want to be comfortable throughout the day, and not just for the workout.
Multiple colors.
Spalding Women's Ankle Legging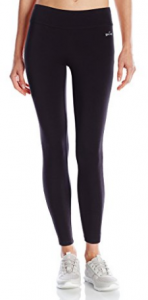 To me, Spalding is a familiar brand for basketball balls, but it looks like that this brand has grown and now, they are loved by women and man who are not related to basketball.
This ankle-length legging featuring wide waistband wich is making them favorite leggings on the market. At the left hip, it has contrast logo emblem and there are only tree different colors of this model: black, navy, and charcoal.
Reviewers say that they are not transparent, and recommending hand washing to keep their elasticity.
Multiple colors.
Danskin Women's Essentials Ankle Legging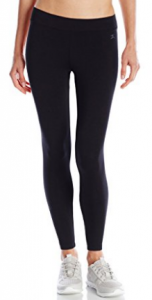 Sometimes you feel discouraged to even go to the gym. You are thinking that everybody will see that you haven't been there for a long time. They will see your muffin top. But it doesn't have to be like that. You just have to choose the right leggings.
Danskin ankle legging has wide and elastic waistband can miraculously cover and tuck in your muffin top. They are not transparent and you can wear them as pants if you combine them with big sweater and boots. Reviewers say that they feel like they have found the best leggings for this price, and many of them are ordering more than one pair.
Multiple colors.
90 Degree by Reflex Women's Power Flex Yoga Pants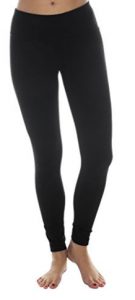 I am not a genius when it comes to math, but when I checked the statistic for this yoga pants I had to put them here. More than a thousand women (and maybe some man, let be equal okay?) have left their comment about this pants, and 70% are so excited about them that you can no imagine. Five stars everywhere.Multiple colors.
It seems that everybody loves good stitching, comfort and soft feel of these flex yoga pants. Curvy girls are obsessed with these pants because they are stretchy and higher waisted, so if you bend everything stays covered. Now, take a deep breath and choose the right color!
Multiple colors.

Baleaf Women's Ankle Legging Inner Pocket Non-See-through Fabric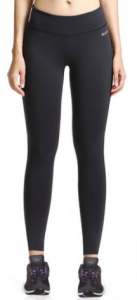 Figure flattering ankle leggings from Baleaf are excellent for your casual look because of that special addition: inner pocket! You can keep your key inside, an iPod, or something so valuable but small.
The waistband is elastic and broad, and it stays in place when you work out. The opaque fabric is hugging your legs and waist perfectly, and its stretchy material is not scratchy and the skin breath underneath. Just an excellent choice in this price range. And in higher price ranges also.
Multiple colors.
Daisity Women's Yoga Pants – Gym Activewear Slim Spandex Tights – Hidden Pocket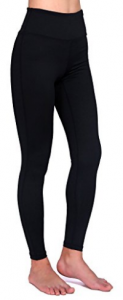 Three words to describe these pants: comfort, comfort and pure happiness! Okay, that is more than tree words, but you get the point. They fit like a glow, and they do not see trough because the material is thick.
Skin can breathe underneath these pants, and gym people just love them. And I call gym people all of those who go to gym more than two times a month. Reviewers are smitten by their shape and the fact that they have flat seams that are reducing irritation caused by chafing.
It seems that everybody who have bought this pair of yoga pants, wants to order few more, so hurry up and order them while they are still in stock.
Multiple colors.
Franato Women's Seamless Full-Length Leggings High Waist Slimming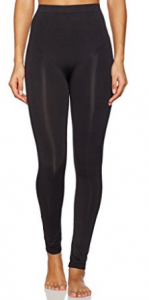 If you want to go to the gym empowered and confident, even tough you don't spend nights and days at the gym, you need a pair of these. This specific black shiny material is lifting, tucking in, and keeping everything where it should be. Black colored clothes always shrink and makes you look thinner, and this fabric lifts your butt. Everything that you need to enhance your figure!
Reviewers are recommending them to women in their post natal period because high waist is covering muffin top, and thick fabric is covering cellulite.
It is important to say that they are easy to wash, and very durable.
Multiple colors.